Suhas Madhukar Khamkar is one of the popular body builders who was seen making a debut in Mr. India 2010. He was the first bodybuilder from India who won the Pro Card immediately after the Mr. Amateur Olympia in 2018. Body Building has been one of the motivations for the young generations. The influentials that are helping the communities to grow healthier. Not only to shape their body but also to improve their lifestyles.
Suhas Madhukar Khamkar's  achievements
Inspired by Arnold Schwarzenegger he wanted to be the same in India. His achievements have proven that bodybuilding can spark a career. Born in Kolhapur, Maharashtra he started his practice at the age of 15 years. Kolhapur is the place for the wrestlers, almost every family has one wrestler in their family. Khamkar also comes from a family of wrestlers that has motivated him to step into bodybuilding.
But his interest was slightly different as he wanted to go Gym instead of practicing in the wrestling rings. He said, " At that time very few people knew about bodybuilding". His beginning of a winning career was from a competition that was held in his gym.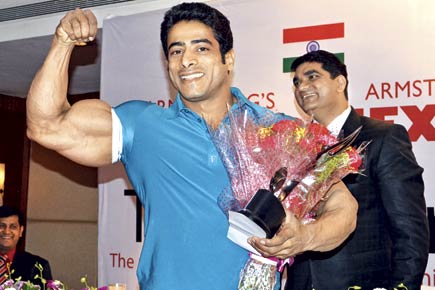 He stood forth and won a medal in fourth, it was when his confidence was boosting up to pursue a career in bodybuilding. Interest to join competitions and participate increased after winning his first competition. Within a year he participate in the Kamghar shree competition and won third position.
Local competitions were the platform to provide him the exposure to compete. It gave him the rays of hope to further work and progress at National Level. His peak was when he won Mr. Asia and Olympia. Body Building was one of the less known sports as compared to other sports and athletes. After winning prestigious awards bodybuilding stands as a passion among youngsters.
Hardship Times When Progressing as leading Body Builders
As he was growing as an icon among young kids and youths, it was the time when his father lost his job. Not only less popular but it was one of the less paid sports in India. So, whatever amount his father got after the mill was closed was given to him. He said," Half the money I gave it to my brother and the rest amount I had spent on my food and diet".
There is no financial aid for him nor did anyone help him except his family members at the age of 20. While mentioning his relatives he said," All my relatives started saying that I was mad".  It was the hardest period in his life as he was not winning any of the competitions. Due to a lack in his sharpness, he was losing all the competitions.
Bulkiness and lack of financial help were the main worries that stood as hurdles in his life. He also said that "I had no mentors, there was no one to guide me in entire Maharashtra. I watched the skills from top builders of that time such as Prasad Kumar and Sunil Amte. They have been my inspiration".
During the time of his struggle period, he had to travel to different parts of India to learn the skills and develop his body sharpness. No mentor and lack of financial aid both were hurdles but it could hardly stop him to become Mr. Asia.
Awards and Honors to the Body Builders Suhas Khamkar
After continuous struggles to achieve his goal now he stands as an icon for many young bodybuilders. Standing at the peak, Suhas Khamkar also shared his thoughts on determination and success. He said, "Be determined and prove yourself, you will find that the whole world will stand behind you".
For continuously ten years he won the Mr. Asia Body Building title in 2010 and Mr. Amateur Olympia in 2018 as a champion of a champion.  He has been nine times Mr. All India Railway Gold champion from 2004 to 2012 and ten winners of the Mr. India Body Building title.
Determination to become a successful bodybuilder motivated him to overcome all his struggles. The honors and awards triggered a new thought to tender about bodybuilding as a sport within youths.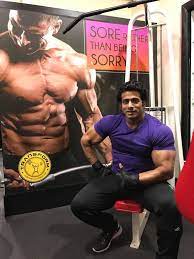 Suhas Madhukar Khamkar's Fitness Den
Being a sportsperson for years he also stood up as an entrepreneur after years of dedication as a bodybuilder. Fitness Den is his hub of fitness lovers. He said, "At a time I had no money to buy food for myself but dreams were big". His dreams have given him the wings to fly high. Suhas Madhukar Khamkar also said that "one should focus to achieve something in life".
While being the owner of Fitness Den he has given a platform to bodybuilders. During his time he had to travel to different parts of India as there was no expertise to guide him. After gaining honor in the field of bodybuilding he is a guide to several youngsters.
According to him, apart from supplements and proteins intake one can naturally build their body. Natural food intake can help in developing a healthy and shaped body. But for competitions, the level has advanced to supplements and proteins.
IFBB Pro has been one of the best platforms that have changed my career in the field of bodybuilding. The criteria of bodybuilding have been differentiated into different sections. Mainly it can be categorized as Models, Physique, and Fitness which are together part of bodybuilding.
With the best knowledge and skills in bodybuilding, youngsters can find various ways to build a successful career in the future. A fitness trainer, bouncer, bodyguards, manager are some of the top-rated career options.
Suhas Madhukar Khamkar earned his living as a government employee in Railways. Altogether he is a successful iconic bodybuilder and an entrepreneur.