Pictures of Kashmir – Visiting Kashmir is always paradisiacal even if it has come to an agonizing state.
It is said that Kashmir replicates heaven and how! ranging from the vast swathes of idyllic landscapes to the crystal clear lakes, all have look-at-me beauty to feast our eyes on. Kashmir has come a long way through its tribulations and triumphs and some people are way nihilistic about visiting this place given the present political scenario but if you want to meditate the ecstasy of natural beauty, Kashmir will surely make you abjectly surrender to it.
But Kashmir was not any similar than what it looks now and here are a some Pictures of Kashmir that we have handpicked that gives you a visual account of what Kashmir looked 100 years ago:
Pictures of Kashmir –
The lonesome traveler:
In this picture you can see a man standing in front of a milestone during the time of British India. In the behind you can see a billboard from the government which really makes us so nostalgic.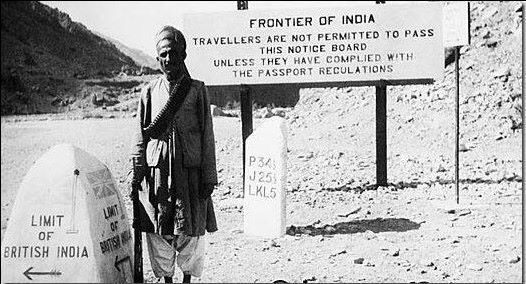 The Cashmere Shawl weavers:
Cashmere shawls exude grace and panache. Hence, this is a favorite among people from all over the world. Cashmere shawls are widely available in foreign markets who which are exported by India. This is a heart-warming picture of the indigenous weavers busy in making shawls in Kashmir.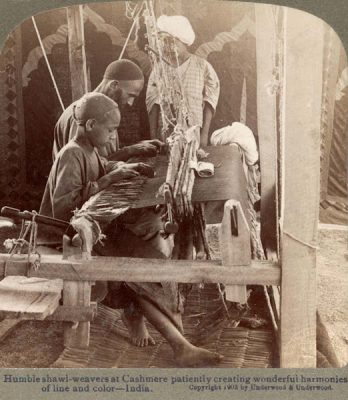 The happy souls:
Kashmiri girls are known for their jaw-dropping beauty. Their lives are no bed of roses and they have to scale the topsy-turvy mountain roads to make ends meet. They mostly make a livelihood from cattle grazing and this picture of the girls in their chirpiest self 100 years ago is a treat to the eye. Here, they are sharing a laughter in their indigenous and distinguishable clothing and we can't stare off. How time flies and somethings never change. Today also, you will see Kashmiri girls wearing this kind of outfits to beat the chill.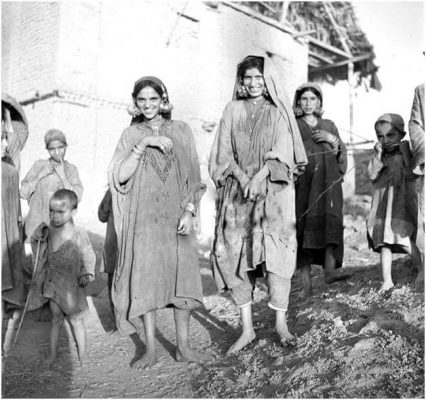 The dangerous rope-bridge:
As we have already said before, life is Kashmir is tough. There have been many refurbishments now but the scenario wasn't as same 100 years back in Kashmir. Then, people made do with fragile rope-bridges to cross the rivers and this is the example of the same. Here you can see two men are going from this side of the river to that on a bridge that is merely bound by flimsy ropes.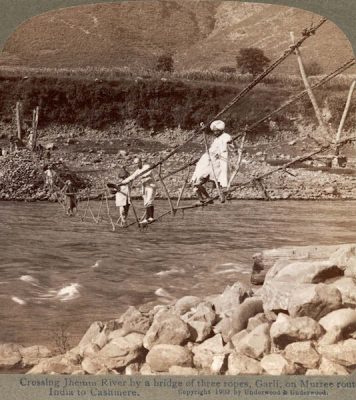 These are the Pictures of Kashmir 100 years old –  These pictures lead us back to the time when life was much simpler in Kashmir. We have no beacon of hope that the present political upheavals will settle down any time soon in Kashmir but we really hope that Kashmir continues to enamor us.