In its 10 years, the UPA government has given us A-Z of corruption. No year has passed without a scam splashing its dirt on it. Interestingly, every other scam unearthed was found to be bigger than ….
In its 10 years, the UPA government has given us A-Z of corruption. No year has passed without a scam splashing its dirt on it. Interestingly, every other scam unearthed was found to be bigger than the previous one. From UPA chairperson Sonia Gandhi, PM Manmohan Singh, Finanace Minister P Chidambaram to A Raja, Sharad Pawar and others – every minister is painted in black.
Interestingly, the scams were found one after one, every year, and yet UPA survived 10 years. Although the list is quite long, here is a look at the top 10:
Adarsh Housing Society scam (2012): The Adarsh Housing Society is a cooperative society in Mumbai, Maharashtra. The society, originally meant to be a six-storey structure to house Kargil war heroes and war widows, was converted into a 100-metre-tall building. Over a period of ten years, top politicians, bureaucrats and military officers proceeded to bend several rules and perpetrate various acts of omission and commission in order to have the building constructed and then get themselves allotted flats in this premier property at artificially lowered prices.
According to the present market rate in the Colaba area, an average two-to three-bedroom-hall-kitchen (BHK) flat in Adarsh society could cost between Rs 6 crore and Rs 8.5 crore. However, members of the society paid Rs 60-85 lakh for each flat.
Four ex-Maharashtra chief ministers, namely Sushil Kumar Shinde, Vilasrao Deshmukh, Ashok Chavan and Shivajirao Nilangekar Patil, have allegedly been found guilty by the Judicial commission formed by the Maharshtra government for the probe.
Augusta-Westland Chopper scam (2013): Several Indian politicians and military officials have been accused of accepting bribes from Agusta-Westland in order to win the 36 billion (US$590 million) Indian contract for the supply of 12 Agusta-Westland AW101 helicopters. These helicopters are intended to perform VVIP duties for the President of India and other important state officials.
Ahmed Patel political secretary to Congress President Sonia Gandhi is alleged by Italian prosecutors to have received kickbacks from the deal. A note dating back to March 15, 2008 presented in the Italian court also indicates that Congress Party President Sonia Gandhi is the driving force behind the VIP chopper purchase.
It further asks middleman Peter Hulett to target key advisors to Sonia Gandhi and lists the names of Prime Minister Manmohan Singh, Ahmed Patel, Pranab Mukherjee, M. Veerappa Moily, Oscar Fernandez, M. K. Narayanan, Vinay Singh. The note also contains the bribes to be paid out divided as, "AF" €6 Million, "BUR" €8.4 Million, "Pol" €6 Million and "AP" €3 Million.
Cash for vote (2011): TheUPA allegedly bribed Bhartiya Janta Party MPs in order to survive a confidence vote on 22 July 2008 after Left parties withdrew their support over the Indo-US nuclear deal. Three BJP members – Ashok Argal, Faggan Singh Kulaste and Mahavir Bhagora – had flashed Rs1 crore cash in Lok Sabha alleging that the money was given to them by floor managers of the UPA government to secure their support during the no-confidence motion.
Amar Singh, the Rajya Sabha MP was at the heart of the cash-for-votes exchange. His home was the place from where the money was allegedly disbursed to willing MPs.
Coal Scam (2012): The UPA government's decision to not auction 194 coal blocks between 2004 and 2011 cause a huge amount of loss in revenue to the country. The figure was initially believed to be more than Rs 10 lakh crore, but the CAG chose to keep PSUs out of its final report, bringing the figure down to Rs 1.86 lakh crore. The role of PM Manmohan Singh is under scanner in this case and it is considered that he had a substantial say in this scam.
CWG (2010): Former Commonwealth Games Organising Committee chairman Suresh Kalmadi and nine others were charged for allegedly cheating, conspiring and causing a loss of over Rs 90 crore to the exchequer in CWG-related corruption case. The role of former Congress chief minister of Delhi Shiela Dikshit is still unknown.
Hasan Ali Hawala scam (2007): Hasan Ali Khan, an Indian businessman, reportedly had a Swiss bank account with $8 billion in deposits. He allegedly stashed away billions into Swiss bank accounts with the help of Kolkata based businessman, Kashinath Tapuria using hawala. In January 2011, the then Finance Minister Pranab Mukherjee announced that both Swiss bank accounts of Hasan Ali Khan were emptied. In December 2012, Finance Ministry told the Standing Committee on Finance that recovery of Hasan Ali's tax arrears (of approximately Rs 91,000 crore) is not possible. The whole debate on black money allegedly stacked by politicians, including UPA chief Sonia Gandhi, in Swiss banks started from here.
Madhu Koda Mining scam (2009): It was alleged by investigative agencies that Madhu Koda took huge bribes for illegally allotting iron ore and coal mining contracts in Jharkhand when he was the chief minister of the state. As per estimates Koda and his associates collected over Rs 4,000 crore by allotting mines to business houses.
Satyam (2009): B Ramalinga Raju, the prime accused in multi-crore Satyam Computers accounting scam case confessed that he had manipulated the accounts by $1.47-billion.
Tatra Truck scam (2012): The Enforecement Directorate had registered a case under the Prevention of Money Laundering Act (PMLA) in April, 2013 against Vectra Chairman Ravi Rishi and few other firms after former Army chief Gen V K Singh had alleged that he was offered a Rs 14 crore bribe in September, 2010 to clear the purchase of a tranche of 1,676 Tatra trucks for the Army.
Telecom 2G Spectrum (2008): In 2008, telecom minister A Raja issued 122 new telecom licences to several domestic companies that had little or no experience in the telecom sector, and at a price set in 2001. It is estimated that the spectrum scam led to a loss of Rs.1.76 lakh crore to the government.Name of PM Manmohan Singh, DMK leader Karunanidhi and his daughter Kanimozhi also features in this scam.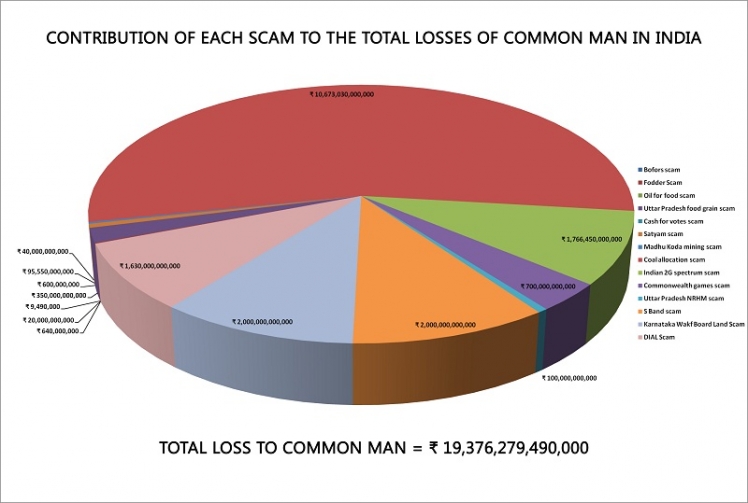 (Source: Wikipedia and agencies)
The list is endless. And many other scams, such as Aadhaar scam and Food Security scam are yet to be unearthed completely. With all of this happening, and UPA government ruining country's economy, Congress vice-president Rahul Gandhi trying to earn votes in the name of clean personality and anti-corruption measures possibly to be taken (or taken) by the UPA looks like a drama.