Rashi Jamuar Sahay writes about her travel experience to the heart of India.
I don't know where to start from. This is the first time that I have this urge to write all the while and yet I have no perfect beginning, no perfect words, no perfect metaphors or quotes. All I have is a heart full of perfect experiences and a soul that is overwhelmed with love and warmth. So I don't know if what I'm going to write about this Bhoj nagri will suffice the appetites of my regular readers. But what I can promise is if you connect with what I'm writing even a bit you'll be enthralled by this impromptu journey of mine. What was the reason, you may ask? Well that, I leave on you to decide. So let your imagination be as vivid as it can get – think of love, think of friendship, think of relationships with strangers, think of water and hill all around like in a romantic movie with a moral and think of BHOPAL.
Third of September this year was one of those special days of my life. The moment I set my foot on Habibganj station (yeah, sounds classy and royal) I had goose bumps. I was escorted out by my friend Shanoo (as we fondly call him). It was drizzling and let me tell you I'd otherwise have been irritated about it but surprisingly the drizzle warmed my heart. I haven't been able to quite believe my eyes still that there could have been anything as beautiful as I have witnessed in the last 3 days. I stayed with the coolest family ever, where I met a mother who was more a friend, a very promising young lady who is this spoilt little brat but very matured at the same time and of course my friend shanoo, the super intelligent out of the box thinker and an achiever already. And oh! Not to forget my love – LEO…yeah our dear mr. Leo who was the sweetest, laziest and the most emotional lab I had ever met. Yeah, there's one more person the details on whom I'll save for later (no I haven't been bribed).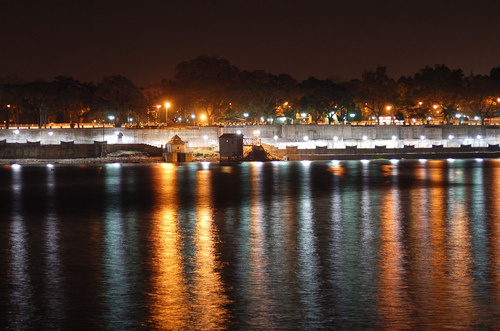 I had only read in books that there was a city of lakes in India. When you may be interested in knowing? Well, long ago when I was in school. Being an avid traveller the idea of visiting a new place has always given me immense pleasure. This time the city of lakes it was. Bhopal as we know it to be. If there's one city that qualifies to be the symbol of "city in the laps of mother nature" I would vouch for Bhopal. 52 lakes, amazing history, a warm spirit and a city that is alive in a very human way. And when I say human I refer to humanity. Bhojpal or Bhopal as we know it is a city that can make your knees jelly on more than one occasion. Not only does it amaze you with the greenery but also that there are houses in locations which you can vouch to be the best view in the city and yet they all are.
"If you stay in Bhopal, your house would either overlook the hills or the lakes" a saying I have realised to be true. The roads would remind you of nothing less than mall roads of Shimla, Mussorrie or even Ooty.
The other day while riding the two-wheeler, I suddenly heard someone calling me. A very subtle, warm voice. I could hear a smile in the voice. I turned to only realise – Bhopal was talking to me. You might consider me insane but I have already warned you about this being a first of its kind trip. The roads spoke to me, the trees spoke to me and so did the Bhoj tal – the "'Bhoj wet land". Someone took pride and interest in showing me his favourite location and am I glad he did. Had it not been for this charming gentleman I would have probably not known half of the things. And yes like I promised I would save the details on the gentleman for later.
Bhopal is very different from any other city of our country, of course not questioning the uniqueness of any other city. This city has a life of its own which can be felt right from the moment that you set your foot here. I have always admired my native, Giridih, back in Jharkhand and I have never had any second thought while claiming it to be the place where I belong, but now finally I have a place where I want to belong to also. The trip down the history lane of Bhopal is one of the most interesting ones. Of course we have known all about the rajwadas and the Marathas across the country but here is a city that is famous in the most unusual ways. Ever heard of the idiom "Kahaan Raja Bhoj, Kahaan Gangu teli"… well trust me you'll start to associate with this idiom as much as I did the moment you sit by the Bhoj wet land (or even into it with some water sports) and look around you.
I have never felt a pinch while leaving any city because I am a traveller. I am the one who chooses which roads to go by and which to leave. But this time, like I said I wasn't just leaving the city I was leaving a human being, some stranger who has imprinted my heart with his love, charms, beauty and above all the warmth. Nothing strange about strangers after all. I don't know if I should write about all the lakes that make me all gooey and mushy and romantic or the hills and the lush green carpet across, that make me fall in love with nature all over again. I don't know, if I should mention the tribal museum or Van Vihar. Should I be going gaga over the many institutes or should I be talking about markets the people and the immensely strong spirit of peaceful living. Guess the space is a little too small and the content a little too much to fit into any space. But there's something that I do know, if there's one city that I want to belong to, that I want should embrace me and make me its own it is the Bhojpal.
So I have my "bhopali batuas" "The surma from bhopal" packed tightly in my bag and I have this hope tightly clamped into a corner of my heart that soon, the city will call me, to a place where I want to belong to. The place where I would want half of my last ashes to be ritually let go….my soul has surely found the peace and I don't want to let it go….. ever.