When he calls his mother and the Prime Minister his Guru, we do not laugh at them. We just sympathize for their efforts gone in vain.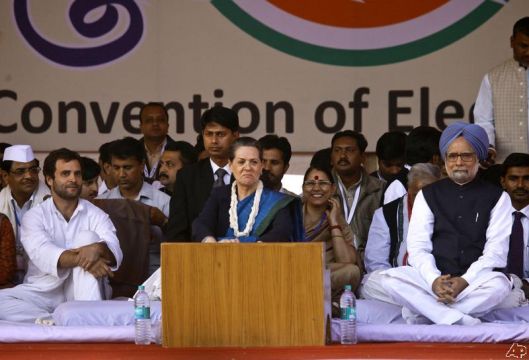 On September 27, Congress vice-president and probable prime ministerial post contender Rahul Gandhi threw a tantrum in his rugged avatar. He dismissed an ordinance passed by the cabinet as "utter nonsense". This he did while the head of the cabinet, the Prime Minister, was on a trip to USA for UN General Assembly meeting.
Crashing a press conference being addressed by party spokesperson Ajay Maken defending the same ordinance was his idea of clearing his conscience. The arrogance in his behavior and language only repelled people further.
He could not have waited for a few more days for Prime Minister Manmohan Singh to return home. He did not think of the repercussions. And where were he when the ordinance, which according to him should have been "torn and thrown away", was being drafted by the law ministry?
It was one of the "small compromises" being made by the UPA government which he disapproved of. He distanced himself from his own party and the UPA government which pretty well could be his in future. Was it just a distaste of RJD chief Lalu Prasad Yadav who faced jail because the ordinance was withdrawn by the government after his drama?
The opposition party, BJP, was already lobbying against the ordinance. They had met the President on whose table the ordinance was laying awaiting approval. Rahul's distaste or not, the ordinance could have been withdrawn by the government due to BJP's pressure and Lalu would have faced jail in any case.
Maybe it was just a desperate attempt to score points over BJP. Or an attempt to present himself someone who is not neck deep into scams with the government. There were collateral damages already slated to be there. So what if the Prime Minister was in the pack too?
The public embarrassment that he threw on Prime Minister Manmohan Singh was so huge that the party President, Sonia Gandhi, was not even able to cover it up properly. How could she? She was the head of the core group which took up the ordinance to cabinet after passing it twice. Then only the cabinet was able to take the ordinance to its constitutional course.
However, when Singh returned from his foreign visit, Rahul reportedly tried to pacify him with a private apology for the very public insult that he threw at him. Whether it was Singh's tough talk on board Air India 1, or his mother Sonia Gandhi's advice, was not clear.
Although, he mentioned that his "mom" said that his "choice of words" was "not right". But the next sentence, in which he waved off his big stage-op as a "mistake of his young (?) age" pretty much reflected that he thought of the prime ministerial post as nothing less than a joke.
On October 10, just 13 days after the whole charade, Rahul heaped praise on Singh at his rally in a Punjab town lauding his contribution to the country.
Addressing a public rally in Sangrur, Gandhi said, "You (Punjab) have given Manmohan Singh to us. What Manmohan Singh has done for the country, no one else has done."
He did not stop there. He called Singh his "political guru", of course after his mother Sonia Gandhi. "I have two gurus in politics. The Congress president (Sonia Gandhi) and Manmohan Singh. Punjab has given one of these gurus," he said.
Chewing his own words with a faint smile on his face as he broached the subject of that ill-fated ordinance, he said, "I was joking with the prime minister after the ordinance (controversy) and I told him what was in my heart. I told him what we have learnt from you."
Stating that Manmohan Singh's intent was honest, Gandhi said the UPA government under him since 2004 has changed the development structure. "Manmohan Singh has a clear intent. No one else has done so much development work as done by the prime minister," he said.
It is to be noted that the ordinance drama is not the only instance in which Rahul created an embarrassment for his political gurus. There are many instances where they must have had a bitter headache due to the incoherent and politically incorrect actions of their chela.
Interestingly, he pooped his placed minutes after being elevated to the position of party vice-president. He had called his own party unorganized and in dire need of reform.
"It (Congress) is a funny party. It is the largest political organization in the world but perhaps does not have a single rule or regulation. We create new rules every two minutes and then dump them. Nobody knows the rules in the party," he had said.
The very same Punjab which he was praising from the dias was just a place of young drug addicts for him just few months ago. The view has not changed though for him. Although his concern that Punjab will lose track because of drug addiction in state is right due to the embedded fact in it, but the words have come just right this time only.
Last time when he visited Punjab to address college students at a function organized by NSUI, he had blurted, "Seven out of 10 youths in Punjab have a drug problem", which was a blunder.
His repeated public appearances have only created more confusion among his listeners. Be it his CII address (beehive) or his attempts to mix technology and sociology (poverty is a state of mind, Dalit's need escape velocity of Jupiter, India is a computer, etc), have unfailingly proved to be a big disastrous soup.
When he calls his mother and the Prime Minister his Guru, we do not laugh at them. We just sympathise for their efforts gone in vain.