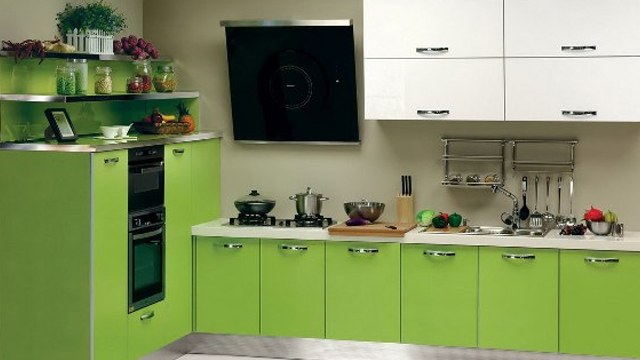 Don't let your kitchen remain the dull corner of your home. It's, after all, the corner that is full of life and fills your tummy! Whether it's mood-food or exotic gourmet to impress your partner, the kitchen is the one-stop unit. Here's how you can spruce it up. Read on:
Colorful accessories:
You have to pep up your kitchen with colorful salt shakers, containers and spoons and laddles. Don't let your cutlery be a lame and boring one. You can go fro funky cups, mugs and pots too! This way, your kitchen will look bright and cheery. Who doesn't want to cook in a cheerful place, right?
Fresh plants:
Get a potted plant for your window sill and watch your kitchen turn into a delightful place. Fresh plants add energy and positive vibe to a place. So what better than your kitchen for it, right? You can also go for elaborate money plants and creepers, if you live in a spacious place.
Fridge magnets:
One of the simplest ways to spruce up your kitchen is to rejig your fridge magnets. Put together family vacays, important event notifiers, mementos from your visits and even jokes and thought of the day! This might sound a bit outdated, but it can add a lot of glamour to your otherwise boring kitchen space.
Glass dining table:
If you have an open kitchen with a dining area, do it up in glass. Effortlessly classy, glass furniture look and feel fab. You can even go for glass that's held by a firm plastic if you have kids at home. Decorate your table with transparent covers, mats and vases.
Statement picture frame:
Be it abstract art, picture of your favorite dish blown up to occupy your wall or even a black and white picture that you love gazing at. You can choose about just anything to make your wall a shiny board with a frame that acts as a statement piece. It will draw all the attention away from your greasy corners and piled up dishes. Trsut us!