Justin Trudeau Throwback Wedding Photos – Okay, Okay, Justin Trudeau's throwback wedding pictures are here.
Damn! They are totally mesmerising, and trust me; once you see him in these pictures, you will literally start wishing to have a "Prince Charming" like Justin. Damn! Whenever I look at him, I wonder, how is he so PERFECT? Like, seriously, how? Recently, the pictures of young Justin Trudeau made everyone go weak on their knees, and now these pictures are all-set to make you do and wish for crazy things.
No doubt, this Canadian PM is too handsome and hot-as-hell, right girls? I can guess that you're nodding your head. Hehe!
Back to his wedding photos, he married his lovely lady "Sophie Gregoire" back on May 28, 2005. Undoubtedly, she is looking gorgeous. But, wait, the attractive point is Justin Trudeau and his killer smile.
Here's the picture – Gosh! They are so adorable. (Girls, take a look at his wife too) Hehe!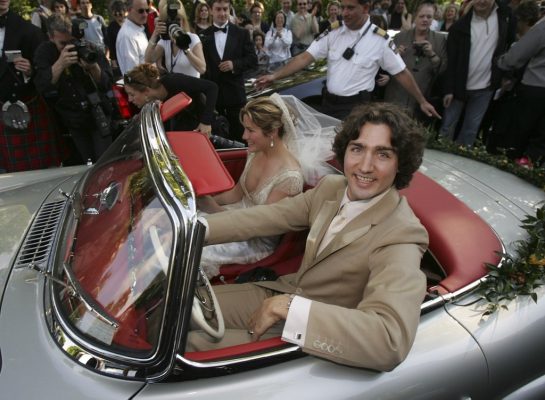 Talking about their love-story- It's too cute to handle.
"Sophie and Justin met each other when they were kids, but during that time they didn't speak that much". In 2013, they met again at a charity event, they flirted a bit, and Sophie made her move by sending him e-mails, but unfortunately he didn't respond that time. Later, they went out on a coffee date and love blossomed between them.
(Girls, are you in your "Awwww" moment?) I don't blame you.
Anyways, guess what Justin said at the end of the dinner? He said "I'm 31 years old, and I've been waiting for you for 31 years." Awwww! So damn lovely.
Now, they are happily married and parents to 3 children.
Take a look at these pictures now and trust me; you will be mesmerised.