Smart watch Withing Activite Review – In the generation that is too busy with its smartphones and does not get the time to exercise, comes a smart watch that is motivated to inspire you to follow a healthy lifestyle.
You want to sport a wearable tech on your wrist but do not want that nerdy look as most other smartbands and smartwatches.
Well, here's the solution to your concern!
The Withings Activite is a simple analog watch with two hand dials but wait!
It has hidden qualities that you will not come to know only by judging its look. One of the hand dials tracks your percentage goals for activities like swimming distance, sleep and the steps you take. The watch knows when you are awake or asleep by putting its sensors to use. You can sync it with your phone and regulate it through the Withings Health App which is right now associated only with the iPhone but will soon be available on the Android platform. This app enables you to adjust the time and all other settings, unlike standard watches that let you do that through the crown enabled on the right–hand side of the phone.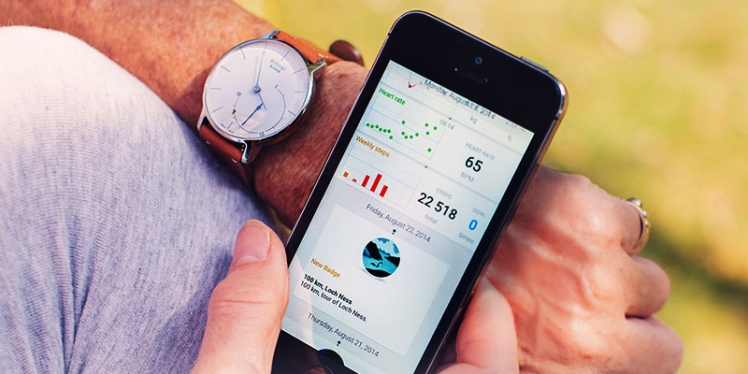 Along with the functionality and use cases, this watch can be paired on Bluetooth with your iPhone to sync with the proper time. A vibrating alarm function with a standard watch battery lasting for 8-12 months is also a feature you can look forward to. The scratch-proof sapphire glass touchscreen made from 316 L alloy stainless steel with ageless timing facility and anti-corrosion benefits is add-on functionality, especially as the watch is water-resistant to 50 m (5atm).
The watch counts steps through a daily global dial where 10,000 steps is the default and tracks your bedtime and wake time pretty effectively. The subtle, embedded features in the watch make it slightly smarter than the smart watches that have glowing displays.
The watch is unisex: it looks good on both male and female wrists equally and comes in two designs: the black pattern with a tinge of orange and the glittering white dial with a blue accent. The hands also have a glistened effect. The strap has been stitched with black or tawny coloured Barenia leather that belongs to the French Haute Couture house.
While you are in your deep sleep, the watch keeps monitoring all your sleep patterns, keeping you informed of all times and supporting all your goals, even your steps towards a fitter you. You can have a detailed picture of what you wore at night through Activité. If you forget your alarm timings, a gentle double tap on the glass will let the watch spin its hands to show you the alarm time and automatically return to the current time! How cool!
As the watch is connected to your smartphone, it automatically displays the time on your phone. Even when you fly to foreign shores, the watch instantly adjusts itself to the corresponding time zone.
Merits
You can create reminders for health with the Health Mate App giving you tips and advice to develop an effective wellness plan.
Your activity levels are increased with the smart watch tracking your activities.
You can now update your fitness status on social media networks as well as invite/motivate friends to accept a weekly step challenge.
Not only the watch tracks your distance metrics, but also your calorie consumption and sleep cycles and interruptions as well as duration of light and deep sleep. The smart watch in disguise (as most of the features are invisible except for the alarm checking functions) also plans to track your swimming, walking and running metrics in the near future with its included silicone wristband that can easily replace the leather one, for use under water. Casual walking and intense running – this watch tracks it all with its accelerometer which is again an embedded feature.
The elegant Swiss-made watch also comes with day and night motion sensor, a high-precision 3-axis accelerometer and low power consumption.
Demerits
The watch is available on withings.com but unfortunately, it has still not been released in India. The site only offers the watch availability in US, UK, French and Denmark as yet. Also, the price reeling for the product as of now in the US is estimated to be 390 dollars.
The Activité can be hard to sell considering that Samsung Gear Live and LG G watch have many more functions available but at a lesser price point. Withings has certainly achieved at making a quality product with expensive glass dials, leather straps made by France's leading historic tanneries and Swiss made, French crafted stainless steel frame, apart from being a wearable tech.
The traditional design of the watch does not mean that the watch will come have a backlight feature for the night or read out the date. However, the watch has background-tracking features which work best with Withings Health Hub, Withings connected scales, blood pressure monitors, RunKeeper, Aura sleep-tracker bed system, BodyMedia and MyFitnessPal apps.
Though many might believe the price to be lofty, Withings has certainly come up with the initiative of introducing regular watches with some smart features and the trend may continue further.
The watch is also a good move towards keeping you healthier. As the company claims, 'it is a unique tool to inspire and empower a healthy lifestyle'.
Now the attention drifts from possibilities on a smartphone to what a smart watch can do. Are you ready?