Remember the thele walla who used to toss out lip-smacking chowmein for hardly any price…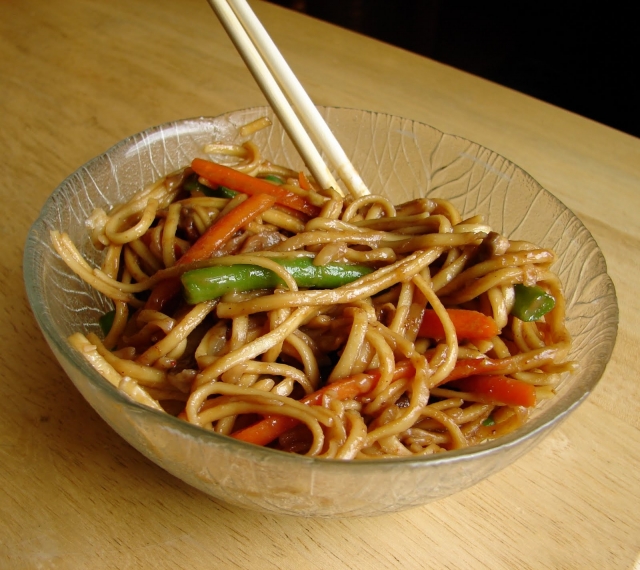 There used to be a thele walla selling desi-style Chinese down our building, when we were in school. For just 15 bucks, he used to sell one full plate chowmein which was enough for two grown ups with a decent appetite. During evenings, he was the most popular guy in our locality as he would be surrounded by fans of all ages, waiting paitiently while smouldering in the heat from the gigantic kadhai. The noodles were tossed in a varierty of veggies like capsicum, cabbage, onion and carrot, and sprinkles with a generous dose of soya sauce, vinegar and chilli saue.
Somehow, I haven't still developed a liking towards authentic Chinese or anything close to it. Unlike yesteryears, our cities are dotted with fine dining restuarants serving culinary specialities from the country made in the authentic style. And our palates have also developed over the years and we can appreciate world cuisines and are also open to trying out new, unfamiliar dishes. But when it comes to the thele wala Chinese, it becomes more of a connection with the past memories than just the food itself.
I have met quite a few people who have the same memories and emotions attached with the thele wala, desi Chinese and I was happy to find that I wasn't the only one to have grown up on it, there are many people from different cities who share the same fondness.
Today I am home after months and while I was strolling on the streets in the evening, I was looking for that thela. He wasn't there today so I have decided to dish out desi-style chowmein at home. All you need is a handful of veggies like cabbage, onion, red carrot and capsicum and a pack of noodles. Boil the noodles and add a pinch of salt and a teaspoon of cooking oil in the water. Meanwhile, thinly slice all the veggies. Heat oil in a kadhai and throw in the vegetables. Add noodles when they turn soft and mix well. Season with salt, pepper, red chillies, soya sauce, vinegar and chilli sauce. Combine well and savour. You can also add just a hint of ketchup for a sweet, tangy flavour.