Enjoy an exotic salad before you start your Friday supper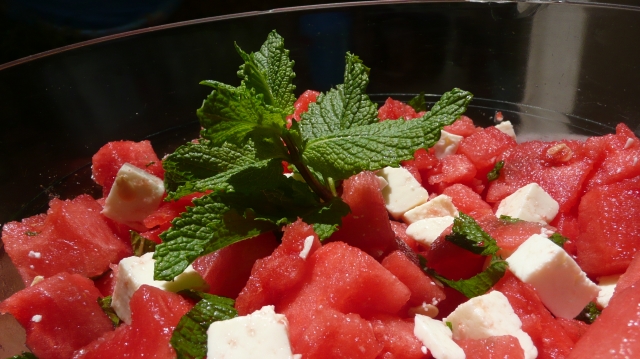 Watermelon and feta cheese salad to begin an exotic Friday supper

Preparation time: 15 minutes
Serves: Six
What you need:

1 (5-pound) watermelon
1 sweet onion
1/4 cup red wine vinegar
Salt and pepper
1/2 cup extra-virgin olive oil
2 tablespoons chopped fresh mint
4 ounces feta cheese, crumbled
6 whole mint sprigs
How to make:

1. Cut the melon into bite size pieces, remove the seeds and slice the onion into rings.
2. In a small bowl, combine vinegar, salt, pepper, and whisk well. Slowly whisk a few drops of olive oil and add chopped mint.
3. In a large bowl, combine melon, onion, and feta cheese. Pour the dressing over the melon mixture and toss gently until everything is coated and evenly mixed. Garnish with mint sprigs and serve.