How to make pizza desserts – A great alternative to the common desserts that we prepare at home, pizza desserts are becoming popular among kids and adults alike. We present three easy recipes for those with a sweet tooth!
If you have a sweet tooth, you will relate to the idea that we want to turn everything edible into something sweet. Dessert pizzas must have been invented by one such person.
Here's how you can combine the best of both worlds to create a unique dessert!
Deep Dish Fruit Pizza
Preheat the oven at 350 F. In a large bowl, cream 1 and 1/3 cup butter, 1½ cup sugar, 1 tsp orange peel and 1 tsp vanilla thoroughly. Mix in 2 whole eggs and beat until light and fluffy. Add 8 tsp milk and mix well. In another bowl, sift 4 cups all-purpose flour, 3 tsp baking powder and salt. Now blend this into the cream mixture. Flatten this between two sheets of waxed paper and then refrigerate for an hour. Take this dough and divide it in half and roll each half into a large round, before transferring it to the pizza pan. Bake for 12-15 minutes until cooked and golden brown. Let it cool completely. For the topping, whip together Marshmallow crème and cream cheese. Spread it on the cooled pizza crust and top it with sliced peaches, kiwi fruit, blueberries, pears, raspberries and mangoes.
Choco-Strawberry Pizza
The best part about this recipe is that you can prepare it any time you want! In a bowl, take 1 can of thick coconut milk with 1 tbsp honey and 1 tbsp organic cocoa powder. Mix until smooth. Take some tortillas and spread this mixture evenly on them. Now slice bananas and strawberries and spread them across the tortillas. Drizzle the remaining honey on the pizza and garnish with raw grated coconut.
Apple Cinnamon Pizza
Preheat the oven to 425 F. You can use the ready made pizza base from the market. For the cinnamon topping, stir together ½ cup brown sugar, ½ cup all-purpose flour and ¾ tsp cinnamon. Add 4 tbsp softened butter and mix until the mixture is crumbly and the butter is well-distributed. For the apple mixture, heat 1 tbsp butter and add chopped apples, 2 tbsp brown sugar and ½ tsp cinnamon, and cook for 4-5 minutes or until the apples are tender (but not mushy). Now scoop spoonfuls of the apple mixture over the dough, but don't cover the dough completely. Sprinkle the cinnamon mixture over the top of the apples. Let this pizza rest for about 10 minutes and then bake it for 12-15 minutes. You can also prepare glaze by heating 2 tbsp butter and 1/3 cup milk in a pan. Add ¼ tsp vanilla and 2 cups powdered sugar. Whisk until the mixture is smooth. Pour this over the pizza and enjoy a heavenly treat!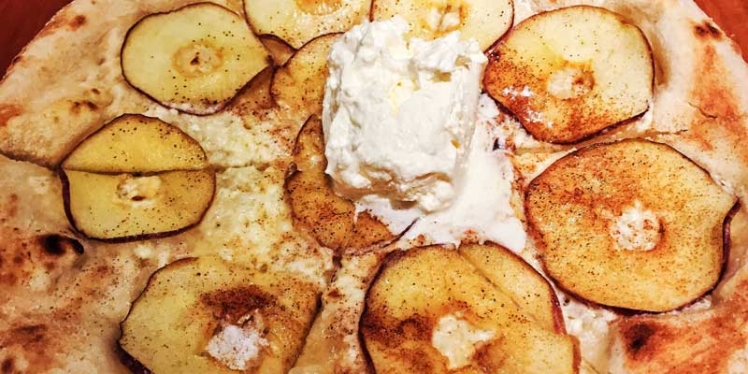 Once you have tried these, you might just want to bid adieu to the normal pizzas! Therefore, eat at your own risk!