Follow our guide to drink like a pro…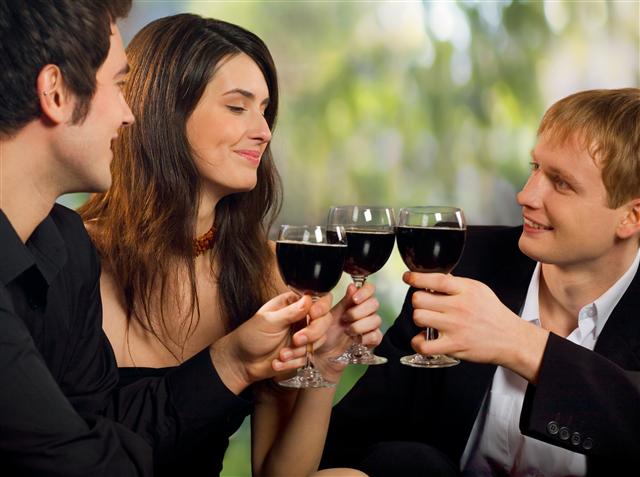 The first time I went for a wine drinking session was out of compulsion. I was working for a magazine when I needed to network with big people associated with the culinary culture of Mumbai and I was forced to attend a wine drinking session at one of most upmarket restaurants in Colaba. Frankly, until then, I was a beer and rum drinker and didn't know how to appreciate wine. I had occasional encounters with a glass of wine earlier but I was still getting accustomed to its taste and there I was, sitting amongst sommeliers. I was more interested in those platters of exotic cheese and breads than wine notes. But, I had to look a part of the group and so I also swirled my glass, faked as if I was smelling the notes and drank it sip by sip. And that day I decided that I want to learn about wine. So, if you happen to be a wine newbie, you must know the following things and ask for your glass like a pro.
Basic wine types: Red – a still wine made with black grapes, and can range from light to dark and bone-dry to sweet. White – a still wine made from green and at times, black grapes, and range from rich and creamy to light and zesty. Rose – still wine made from black grapes by removing the skin before deeply colouring it, and is also formed by blending red and white wines together. It can be dry or sweet. Sparkling – involves secondary fermentation which causes bubbles. It can be red, white or rose and ranges from minerally to rich and sweet. Fortified – a dessert wine which involves fortifying with spirits.
Top wine regions of the world: France, Italy, Spain, US, Argentina, Australia, Germany, South Africa, Chile and Portugal. They also determine the grape variety used in making the wine.
The 18 kinds of grapes: Red noble grapes –Pinot Noir, Grenache, Merlot, Sangiovese, Nebbiolo, Tempranillo, Carbernet Sauvignon, Syrah and Malbec. White noble grapes – Pinot Grigio, Riesling, Sauvignon Blanc, Chenin Blanc, Moscato, Gewurztraminer, Semillon, Viognier and Chardonnay.
Buying a wine bottle: Look for the product's name, region (from where the grapes were sourced to produce the wine), variety (what grape or grapes were used to make it like Merlot or CMS – Cab, Merlot, Syrah – blend), vintage or non-vintage (a non-vintage usually costs cheaper) and alcohol by volume.
Ideal temperature for serving: 62 degree Celsius for red and 49 degree Celsius for white.
How to swirl:
Basic steps to drinking wine: Look at the colour to get into the mindset of tasting, smell as it will help decode the flavours easily, taste and take a mouthwash size sip and briefly swirl around your mouth, swallow and think and don't hesitate in throwing up your observation.
Order like a pro at a restaurant: Verify the bottle, inspect the cork to determine if its printed with the same producer as the label and there are no seepages going up the cork and approve the sample first to check if it's flawed.