Must-have delicacies from Bengali cuisine, when you visit the pandals…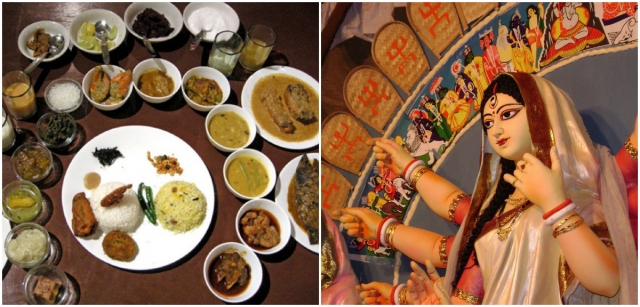 Whenever I think of Bengali food, my palate develops a complex flavour of mustard infused, savoury, tangy and sweet fare, which is enticing nonetheless. Now that there's hardly any time left for Durga Puja to commence, we have drummed up a list of delectable dishes from the region's culinary landscape that you must have from any of the pandals you visit this season.
Labra: A slushy gravy dish with a concoction of differently coloured and flavoured veggies like cauliflower, eggplant, radish, potato, green saag and pumpkin. It is cooked in traditional Bengali style with a smack of mustard and spices like saunf, methi dana, kalaunji, mustard seeds and cumin seeds, which blend together to make up paanch phoron. It is best savoured with khichuri, which is invariably slightly over cooked because it is mass made for consumption as bhog.
Cholar dal: It is the good old channa dal which is made in the typical East Indian style of cooking with a dash of coconut, spices, chillies and seasoned with ghee. If you don't happen to be a born Bengali, you will find the taste delightfully different from what you may have been served in your home and it's always good to break away from known flavours at times. It is best paired with luchi, which is very similar to a puri and is made with maida.
Snacks: No matter which pandal you go to and even if you hop across various pandals, you will always see stalls selling rolls and snacky items. While you may have had these elsewhere and at all other times, it gives a different kick when you bite on to them when revelling in the puja festivities. Try everything from aloo chaap, vegetable chaap, fish cutlets, chicken roll, mutton roll, samosas and singhara, which is a version of samosa, infused with tender coconut and peanuts.
Bhajas: You either snack on them or have as a side dish along with your khichuri, dal, veggie and luchi. Begun bhajas are essentially pakoras made from eggplant, which is thinly sliced, dipped into a flavoured batter of besan and then deep-fried. Potol bhaja is made from the green vegetable called parval, which your mother must have forced you to eat as a kid. It is cut along the length and then deep-fried with a bit of masalas, but sans the besan.
Mughlai Parathas: Called locally as Moghlai porotas, these are four-folded fried parathas stuffed with spiced chickn, egg or mutton.
Desserts: While rasgullas and mishti doi go without the say, you must also try out some chamcham, sandesh, kheer and lobongo latika, a deep-fried four-folded stuffing of flour, khoya, coconut and sugar, topped with clove or laung and hence the name. It is a traditional sweet, especially made during festivities.
Jhal muri and bhaandh-er chai: Jhal muri is made from murmura or puffed rice, which is tossed with chana chur, sev, peanuts, coconut, green chillies, onions and mustard oil. Bhaandh-er chai is essentially the kullar tea.