Benefits Of Hot Yoga – 
WHAT IS HOT YOGA?
I'm quite sure that you must've heard the term "hot yoga". But, do you know what exactly it means, and how it is done? I'll guess that you don't know about it. But never mind, because today in this article, you'll get to know what it is and why there are so many people practising it.
Hot Yoga is a form of Yoga which is performed in a studio that is heated to 40*C and 40% humidity. Hot Yoga was developed by Bikram Chaudhary during the late 20th Century. According to the Wikipedia page, Bikram Chaudhary practiced different Yoga techniques daily for 6 hours, until developing a steady technique that includes 26 poses to stretch one's body and become aware of one's own breathing.
Since then, Hot Yoga developed a lot and is a huge craze.
You might think that it's easy, and is not a big deal at-all, then you're wrong.
WHAT SHOULD BE DONE?
You just can't wake up in the morning, brush your teeth, take a bath, and then go to practice this hot yoga. Many experts say that one should be prepared i.e. you should be well-hydrated. Also, avoid eating anything that makes you feel heavy.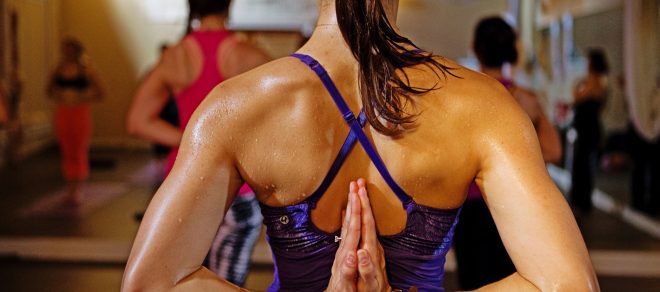 IS IT SAFE?
When your body is well-stretched by doing all the 26 poses correctly, then you know that you've done it well. There is no harm in doing this type of Yoga. It is completely safe. But yes, people who have blood pressure problem, or someone who just can't handle the heat, then it's certainly not good for their health.
One should have the ability to handle Hot Yoga, and only then they can enjoy it. Like I said, you'll sweat a lot. Some people might get disgusted by it, but always remember, to let the sweat flow. So instead of wiping out the sweat, let it flow.
BENEFITS OF HOT YOGA : 
When practiced correctly, hot yoga has many health benefits.
MUSCLE TONE
Hot Yoga requires you to put a lot of effort while doing the poses. It's mainly all about the stretching, so hot yoga focuses on toning your legs, and it tends to give you a good physique.
DETOXIFICATION
No matter what; detoxification is needed. Like I mentioned, while doing hot yoga, sweat start dripping on the mat, and it is good because it helps flush toxins from the skin.
RELAXES BODY
Once you start with it, then you gel up into doing the exercises. So, it helps you a lot, and it also relaxes your entire body. You start feeling that your body is loose and in a good shape.
MENTAL STRENGTH IMPROVES
When you do it with focus, you certainly experience peace of mind. Your mental strength improves and you feel an immediate peace of mind.
Benefits Of Hot Yoga- Thus, Hot Yoga is completely good and safe, but if you've any heart related problem or if you think that you can't handle the heat, then don't do it. Or at-least ask your health doctor before doing it.