We pray Lord Ganesha first – Lord Ganesha is the first god of the Hindu people. According to the belief, every work should begin after offering prayers to Ganesha. Thus, people follow this old-age custom and seek the blessings of Lord Ganesha.
But, have you ever wondered why we pray to Lord Ganesha first? Well. There are various stories that prove him the most intelligent of all. In fact, the Lord Ganesha is also best known for holding expertise in 64 arts. These include knowledge, creativity, drama and much more.
But, these are facts usually most of the people know about him. Thus, know some more surprising reasons why we pray Lord Ganesha first.
Reasons we pray Lord Ganesha first – 
Birth of Lord Ganesha
Lord Shiva got married to Goddess Parvati and they had a baby boy. This child was named Kartik. Lord Shiva sent Kartik to resolve the problems people face in different parts of the world. At this time, Kartik was a young boy and he was also close to his mother Goddess Parvati.
Thus, he [Kartik] took a promise from his father that he will make sure that Goddess Parvati will never miss her son. Lord Shiva gave the promise and Kartik went to accomplish the task assigned.
After few days, Goddess Parvati decided to give birth to another son. Thus she started doing meditation for some days. She then formed a baby boy like structure from her sweat that popped up during the meditation time. After which she propelled life into that structure and named him Ganesh alias Ganpati.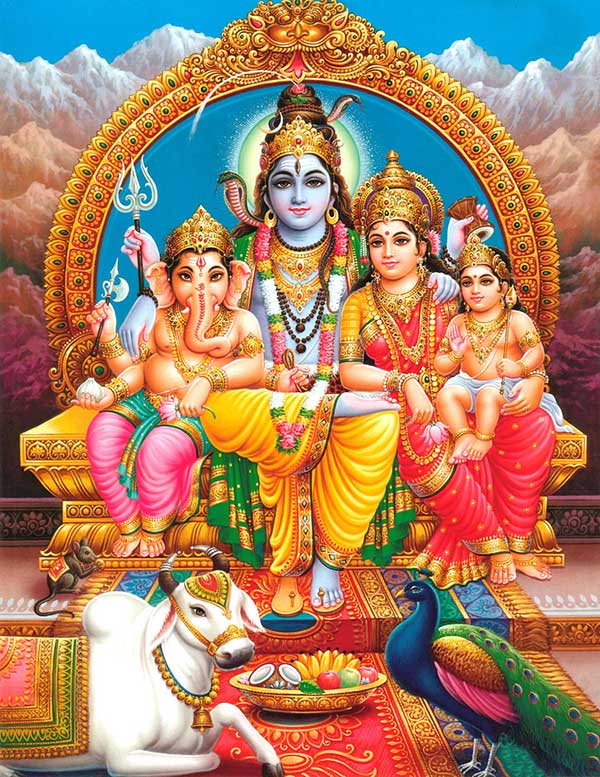 Appearance of Ganesha
One fine day Goddess Parvati went to bath and ordered the Ganesha to stop anyone from entering inside. Lord Shiva came there after few minutes and tried to get in. But, Lord Ganesha stopped him from entering the arena.
This made Lord Shiva angry and thus he chopped off Ganesha's head. The goddess Parvati came running as she heard her son screaming. The mother got angry with the incident and asked Lord Shiva to make her son alive again. Else, she will destroy the entire universe. Thus, Lord Shiva asked other gods to bring the head of the first animal they saw.
Sometime later, the gods came to Lord Shiva and offered the elephant's head they bought. Goddess Parvati's son Ganesha was brought back to life by fixing that elephant's head to his body. Thus, he got another name that is Gajanan. This is the Sanskrit meaning of elephant.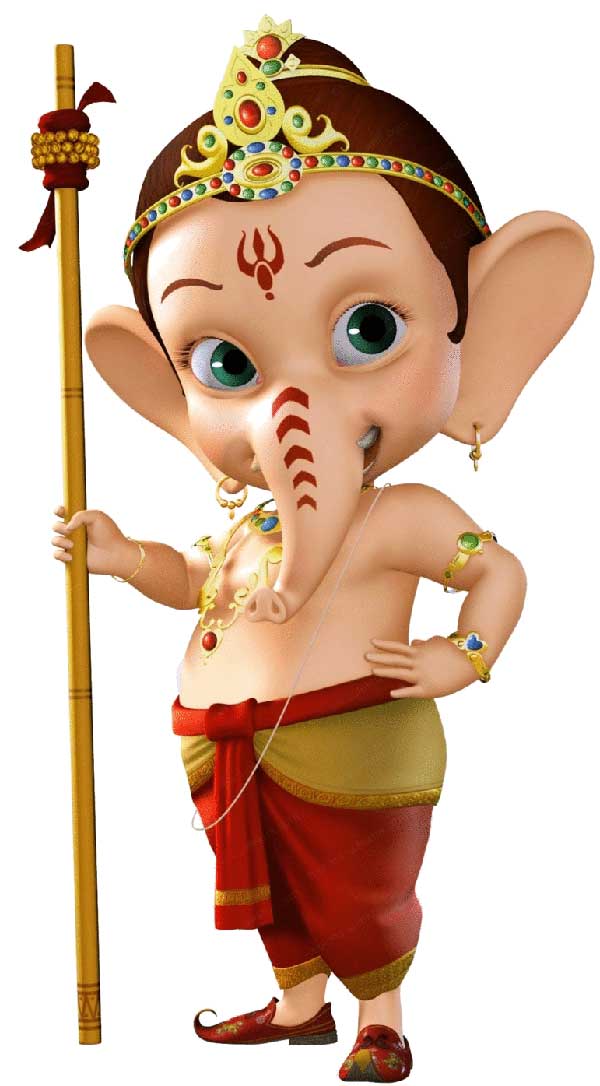 How Ganesh become the First God of Hindu People
Once, both Ganesha and Kartik his elder brother tried to portray themselves as elder than each other. This is when Lord Shiva intervened and gave them a task to accomplish. He also made it clear that the winner of this task will be the known as the first among the gods. Thus, people will pray to him before offering prayers to other gods.
According to this task, the one who will finish the complete round of this universe and will come back to Lord Shiva first will be the winner. Kartik, the elder son sat on his peacock and fled to take a round of this universe. But, Ganesha who had a mouse as the mode of transport thought how to complete this task before Kartik. Because taking a quick tour of the universe by sitting on the mouse is not possible. Then he decided to do a parikrama [round] of his parents. After which he said that my parents are my universe. Thus I took around them only.
Both, Lord Shiva and Goddess Parvati were pleased to hear this from Ganesha. Thus, Lord Shiva declared Ganesha the winner of this task and made an announcement that he will be the first God to whom people will pray. He also added that every auspicious activity will begin only after praying to Lord Ganesh.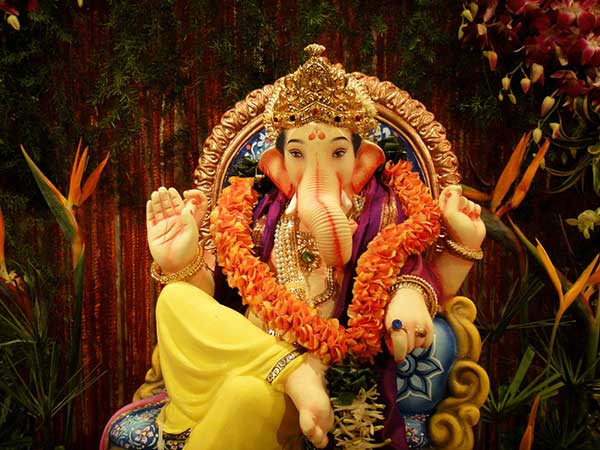 Yogic Belief
Another reason why we pray to Lord Ganesh first is that he rules the Muldhara Chakra. According to this belief, the human life is segregated into two parts. One is material and other is spiritual. Coincidently, Lord Ganesha controls both of them. The material way fulfills the expectations and the desires of a human being. On the other hand, the Spiritual way is the life cycle of a person from birth till death.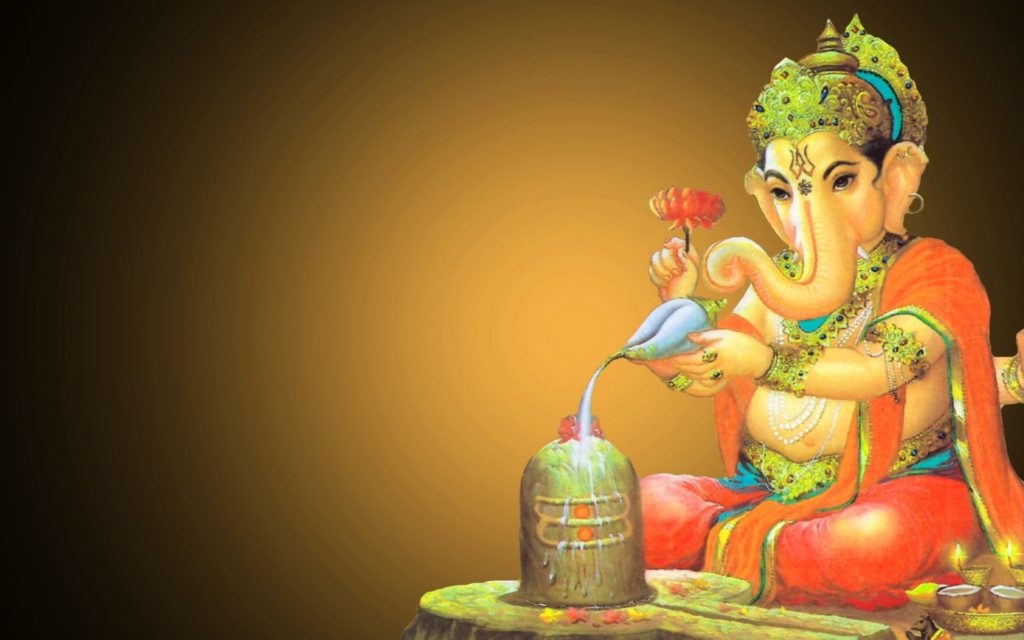 Thus, this is a reason why we pray Lord Ganesh first. It is a belief that we must seek the blessings of Ganpati to live a smooth and hassle-free life.
These are main reasons for why we pray Lord Ganesha first. We the humans stay protected from obstacles and sudden death by offering regular prayers to Ganpati-Gajanan. Thus, those believing in this divine power pray for the success and prosperity of any new work they wish to commence.