9 Avatars Of Goddess – Many people worship Lord Ganesha alone or Goddess Durga alone, at various times of the year. However, worshipping both of them together will suffice to bless you for eternity. Do grant them extra importance during the nine days of the Chaitra Navratri festival.
Goddess Durga takes on nine forms in those nine days, each being significant in its own way.
9 Avatars Of Goddess –
1 – Maa Shailputri, the daughter (putri) of the King of Mountains (Shail), descends to earth, riding a bull (Nandi). There is a lotus flower in her left hand and a trishul in her right hand. Request her help to rejuvenate your root chakra at the base of your spine. This will help you complete worthwhile tasks in this birth.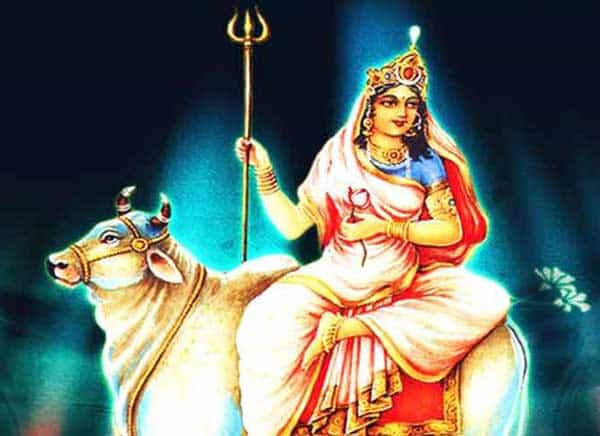 2 – She turns into the radiantly majestic Maa Brahmacharini on the following day. Born to King Himalaya, this performer (charini) of deep penance (Brahm) displays a rosary in her right hand and a kamandal in her left one. You will discard egoism, greed and laziness, in order to acquire knowledge, wisdom and self-confidence.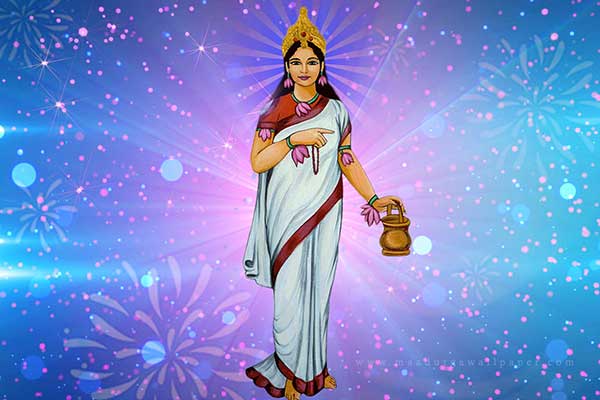 3 – Appearing as Maa Chandraghanta on the third day, the three-eyed Goddess is depicted as a figure with ten hands holding ten kinds of weapons, swords and arrows. Her peaceful and serene eyes are waiting to bestow success and fame upon you.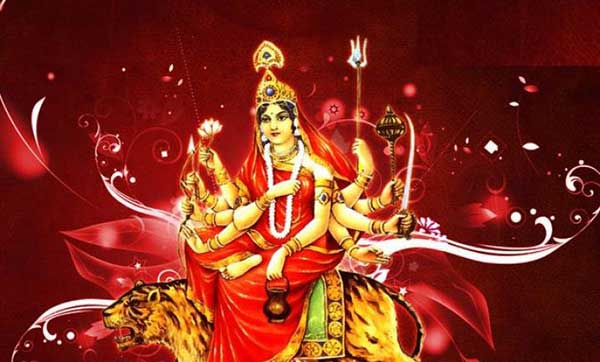 4 – Her fourth avatar is Maa Kushmanda (cosmic egg), who used her eight hands to create this world from nothing. She not only controls the land of the Sun God, but also your personal quota of health and wealth.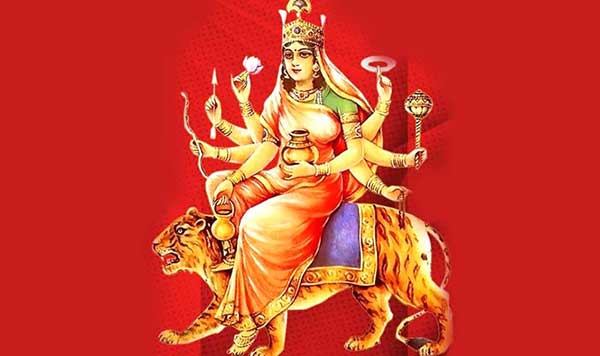 5 – The fifth manifestation of the Goddess is Maa Skandamata (mother of Lord Kartikeya/Skanda). You will see her holding the infant, along with a lotus flower, in her four hands. She also possesses a bright complexion and three eyes. Fulfil all your desires through her worship.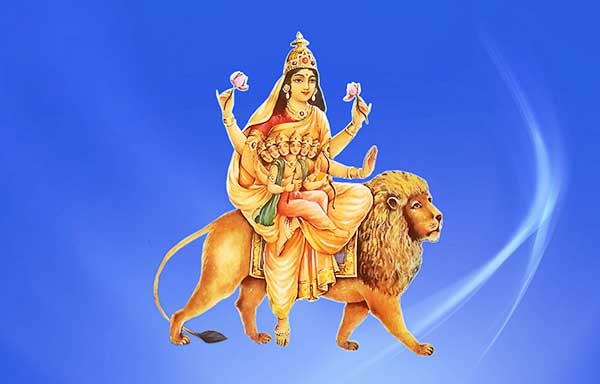 6 – Maa Katyayani (daughter of sage Katya) is the sixth avatar of the Goddess, possessing four hands and three eyes. She will ensure that there is no more delay in your getting married. She will also help you overcome diseases, fears and sorrows.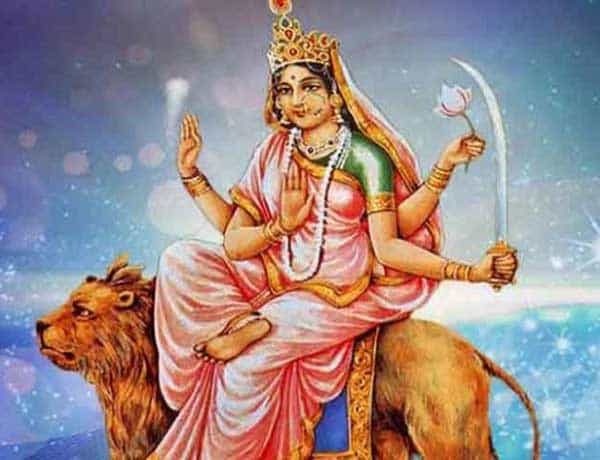 7 – On the seventh day, you will see Maa Kalratri. By bringing death to ignorance, she helps to light up the darkness within your soul. Mounted on a donkey, this three-eyed and fourhanded Goddess appears rather fearsome with flames emanating from her nostrils and her tongue hanging out of her mouth.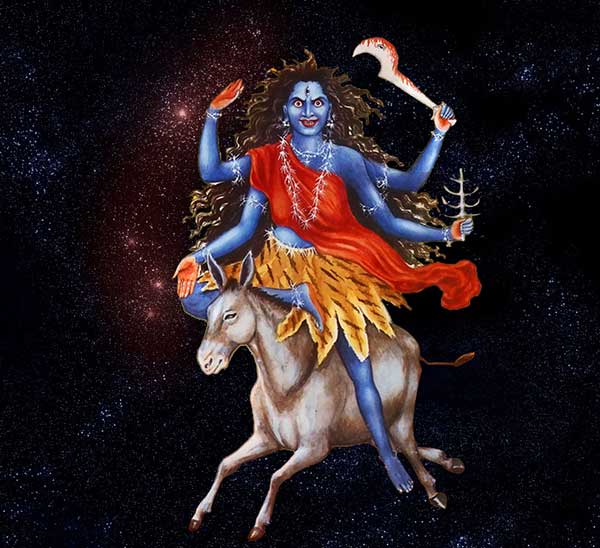 8 – The eighth day is dedicated to the worship of Maa Mahagauri, again with three eyes and four hands. Beautiful and serene in appearance while riding on her bull, she will help you comprehend the sorrows of the material world. Thus, you move towards a lustrous path of virtue and values.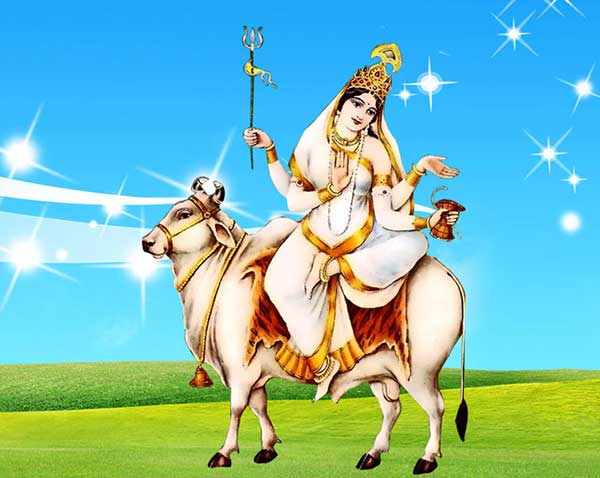 9 – The final avatar is that of the fourhanded Maa Siddhidatri. She is named so, for she bestows 26 diverse kinds of wishes (siddhis) on her true devotees. Her mount is a lion. However, she prefers to sit on the lotus flower too.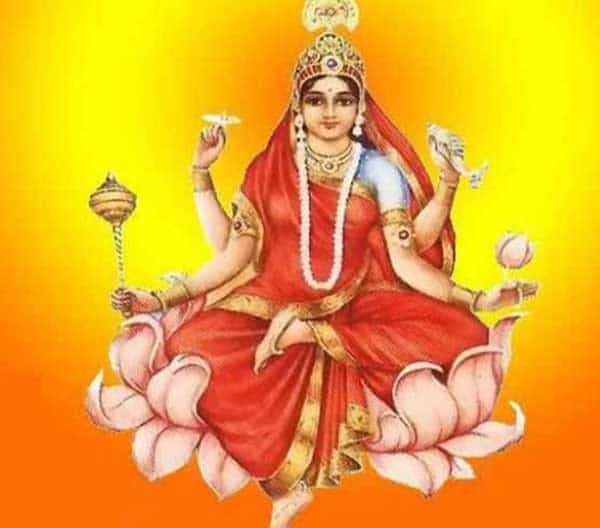 These are 9 Avatars Of Goddess – Thus, with the worship of this Goddess, the nine days of the festival reach an end.