Harassment Complaints Against TVF Arunabh Kumar  –
Is TVF A Good Place To Work Or Not? – This is the question that's been uproaring since yesterday.
On Monday, an anonymous user on medium.com under the title "The Indian Uber – That is TVF", wrote that the TVF CEO "Arunabh Kumar" continuously molested her for over 2 years.
Read the medium post here.
And, ever since this post went viral, there are many girls who came forward and shared their piece of story at TVF.
Film director Reema Sengupta also shared the blog post on FB –
Harassment Complaints Against TVF Arunabh Kumar –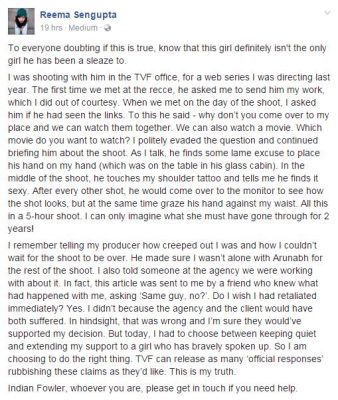 Till yesterday, there were only 5-6 girls who shared their sexual harassment experience, but now, according to the Mid Day report, the anonymous complaints have crossed 50.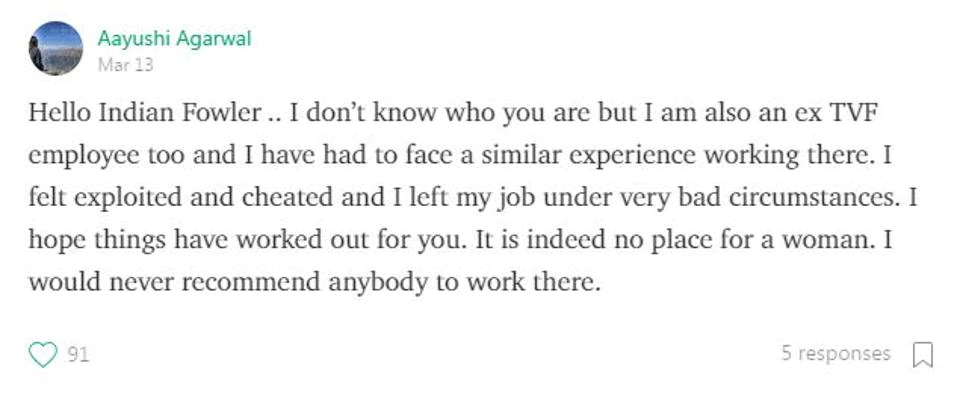 Yes, that's shocking, right?
In the midst of this, yesterday TVF officially issued a worded statement.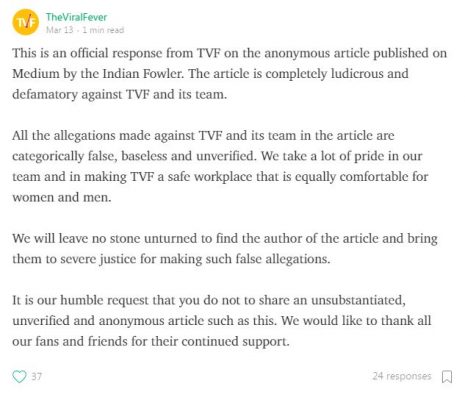 Their words "We will leave no stone unturned to find the author of the article and bring them to severe justice for making such false allegations" didn't go down well with many people on Twitter and here's how they responded to it.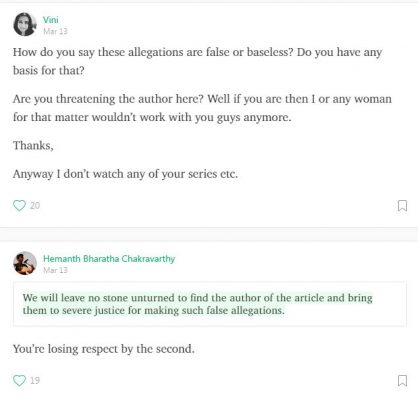 Here's another one –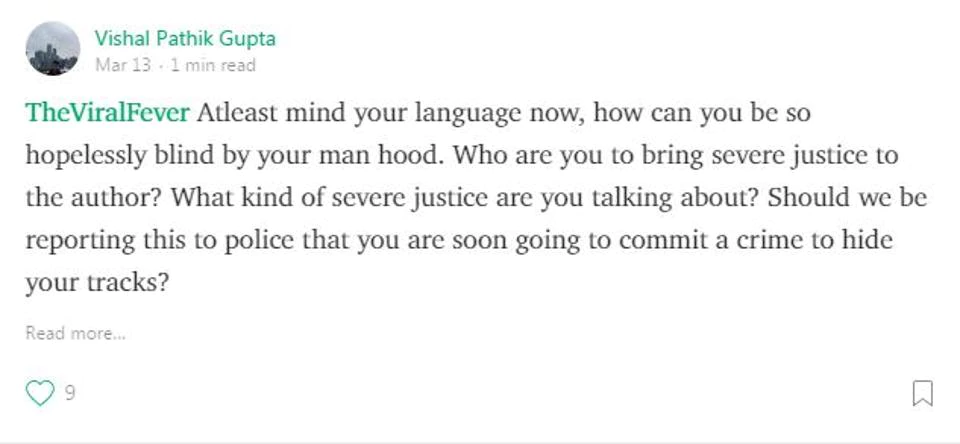 The Twittertatis are extremely confused and here are some other responses on the matter of Harassment Complaints Against TVF Arunabh Kumar.
1 – #POWER
https://twitter.com/urbantucchha/status/841656205219135490
2 – I AM A "HETEROSEXUAL" SAYS ARUNABH KUMAR
All the people who wanted Arunabh to atleast respond to the situation, wasn't it better earlier?#ArunabhKumar #TVF pic.twitter.com/Ws31FkfCtv

— stay home (@notmanoj) March 14, 2017
3 – This can turn out to be the FUTURE if the news is true.
Guys unfollow their team nd make their upcoming show #BishtPlease biggest flop of all times. Share this as much as you can. #TVF Indian Uber

— Rajat Singh (@_lucknowite_) March 13, 2017
4 – TVF is gonna crash down? 
If the news is true, TVF is surely gonna crash down, no matter how good their content is #ArunabhKumar Waiting for the truth

— VIREN (@nawani10) March 13, 2017
The performers and writers from the Indian comedy community also shared their views on Twitter regarding the big-issue.
Here's what they said –
1 – Tanmay Bhat's view on the whole story.
It is very hard for women to speak up against harassment at the work place and as entrepreneurs it is our duty to make them feel safe.

— Tanmay Bhat (@thetanmay) March 13, 2017
2 – Here's what Aditi Mittal has to say..
Silence from the comedy community is deafening.EVERYONE still"texting contacts"/"verifying facts" inspite of hearing stories abt it for yrs?

— awryaditi (@awryaditi) March 13, 2017
3 – Here's how "Biswapati Sarkar" who works with TVF commented on the matter.
I read another which claims TVF has no HR team. Again, no verification. People still sharing baseless articles.

— Biswapati Sarkar (@ChhotaThalaiva) March 13, 2017
Rohan Joshi of AIB was caught up in the middle of sexual harassment scene when an anonymous user on Reddit stated that Rohan tried to groped my breast. However, later the person revealed that she wasn't being serious and everything she said is completely false.
Apart from that, in this scenario, Nidhi Bisht of TVF expressed her views on the whole viral post and said "it's just a baseless fictitious allegation" plus later shared her "side" of the story.
My side. pic.twitter.com/cS6tfD2dVd

— Nidhi Bisht (@EkThapaTiger) March 13, 2017
Now, the company has initiated an internal inquiry into the matter, spokesperson Aditi Singh revealed "Our committee which comprises internal and external people (sic) is looking into the matter. Once we have an update with regard to the verdict, we will communicate it to everyone."
Now that the complaints have crossed 50, people are still wondering "How are the TVF people still silent about all this?"
Arunabh Kumar has given a statement that says "SOCIAL MEDIA HAS ALREADY DECLARED ME AN OFFENDER" – No matter what; the amount of serious complaints that are been received are something that shouldn't be ignored at all.
Thus, this is everything so far and we will keep you updated about everything related to this story.