Bollywood stars political role – #MadamJee – Upcoming film of #MadhurBhandarkar keeping the trend of political roles played by leading stars.
#PriyankaChopra would be seen in Madhur Bhandarkar's next realistic movie #MadamJee
The film based on the life of #Jayalalithaa who was the #ChiefMinisterOfTamilNadu would have #PriyankaChopra as per the latest buzz donning her character showing her career paving from acting to politics.
Politics seems to be the new trend in #Bollywood with many actors playing the role of a politician. But political roles were played by leading actors in the industry since long.
Let us have a look at some actors who played politicians:
Film: Aandhi (1975)
Character portrayed by #SuchitraSen had immense resemblance to the then-Prime Minister #IndiraGandhi.
It was directed by #Gulzar. The film was alleged to be based of the then #PMOfIndia and her relationship with her estranged husband.
Film: Godmother (1999)
#ShabanaAzmi played the role of #Godmother that was inspired by the life of #SantokbenJadeja.
She was known to lead the mafia operations in #Porbandar. She was popularly known as #Godmother and later turned a politician.
Check out #ShabanaAzmi playing the role of a mafia kingpin turned politician.
She was again seen playing for the 'seat' in #MatruKiBijleeKaMandola (2013)
The film starring #AnushkaSharma and #ImranKhan was a political satire directed by #VishalBhardwaj
Film: Sarkar
Character of #AmitabhBachchan was reported to be highly inspired by the Late #ShivSena icon #BalThackeray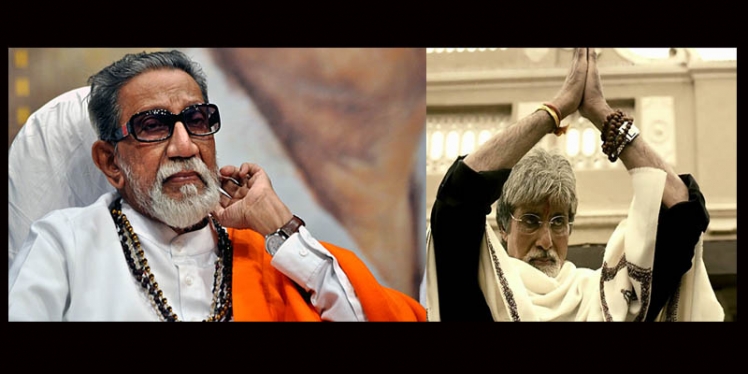 Film: Satta
#RaveenaTandon played the role of a simple housewife turned politician.
Film: Paa (2009)
This film directed by #RBalki has #AbhishekBachchan playing the role of a young politician.
Film: Rajneeti and Satyagraha saw epic casting into political roles:
Both the films were directed by #PrakashJha. Clearly he made politics the latest trend and genre in the industry.
Eagerly waiting to watch if Madhur Bhandarkar's upcoming film #MadamJee would be a striking feature displaying the scenario of #IndianPolitics.
Also #PriyankaChopra playing the character of #Jayalalithaa would add to the versatility of the multiple roles played by this actress.