We have been stalking Actress Bhumi Pednekar for quite sometime in Instagram for motivation as she posts her fitness videos in quick succession.
Actress Bhumi Pednekar has so far given us major fitness goals and her bodily transformation was jaw-dropping as compared to what she looked like in 'Dum Lagake Haisa' .
Looks like Bhumi is enjoying her days in the sun as she is appearing in lead roles against seasoned actors like Akshay Kumar and heartthrobs like Ayushman Khurrana back to back in her movies. Lately, Bhumi turned a year older and in her public appearance, she chose to wear a bold dress which gave us sultry vibes. Looks like, she no longer wants to be confined to the stereotype of 'Girl Next Door' and who's complaining?
A new wave of trend came in Bollywood where actresses are doing things out of the box and Actress Bhumi Pednekar seems like a director's muse at that. She definitely has a pretty face but her bold choices in outfits is making her distinctly noticeable. Bhumi recently made us drool over her with her new bold avtar in a new photoshoot.
Arguably, this is not the first time when Actress Bhumi Pednekar redefined bold, she always made to the talking point with her photoshoots in quite sometime now. From jumpsuits to red lipstick, from pristine whites to gothic blacks, Bhumi has fared every outfit like her second skin leaving no room for the netizens to complain.
Bhumi has taken a year's break after her film 'Dum Lagake Haisa' for losing weight and according to her is that she took an year to put on those extra kilos and she didn't want to look like that overweight girl from 'Dum Lagake Haisa' who lost weight. In an interview with Hindusthan Times, she said " As a country, we are on the brink of a major change. Intellect has gone up, exposure is immense. I am aware of my social responsibility as an actor. But I'm not saying every film must carry a social message. A seemingly senseless comedy can also make a change for the better". This time also, we were completely rooting for Bhumi to surprise us with her new bold appearance and she didn't disappoint us one bit.
It seems like Bhumi believes more in action than words. She is known to maintain a fairly low profile barring she is pretty active in her Instagram handle where she keeps her fans updated about her ventures. Here are some pictures of Bhumi's recent photoshoot that you should not miss: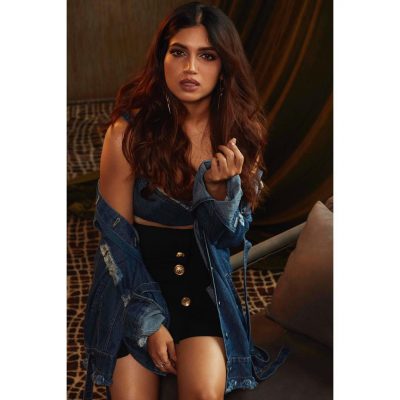 Bhumi looks like a downright sex siren here in that black mini skirt and black tank paired with a denim jacket. Her expression itself says that she finds freedom in being bold.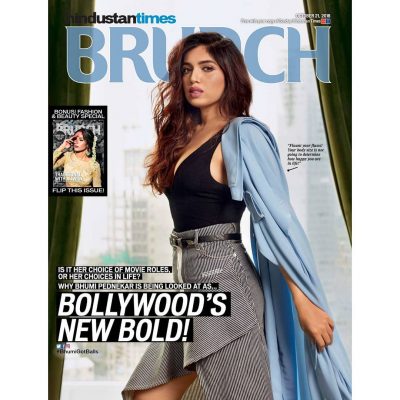 Actress Bhumi Pednekar made it to the Hindusthan Times Brunch cover in that frilled skirt where she looked nothing short of a glam queen.
We got hold of these photos where Bhumi really left us gasping for breath.