Ayushman Khurrana, the heartthrob of Bollywood seems to have a dissecting mind, at least we figured that out from his poems.
If you want read a writer's mind, you better find clue in his creations and the poems that Ayushman has penned down gives testimony to his deeper understanding of life and his unrelenting contempt for the duality of urban life.
He has his own blog where he brings forth the pickings from his brain, his understanding of life and we are so enamoured by the way he is assuaging the intellectual need of modern day poetry.
Check out here the poems written by Ayushman Khurrana that really kept us on the hook:
Mukhote:
"Chehre ya mukhote hai
Mukhote ya chehre hai
Andar ka Ram jala diya
Kaise ulte pade dashahre hai
Apni hi awaz sun na paaye,
Mann ki nadi uffan paa na saki
Par hum dikhte kitne gehre hai
Yeh mukhote koi utar na le
Laga diya lakho pehre hai
Chehra ya mukhote hai
Mukhote hi to chehre hai"
Are these masks or faces, faces or masks? We reduced the Ram within us into ashes, dashahre bears no significance to us, our own voices fall in deaf ear, no storm ravages the river in our hearts any longer, but we still manage to appear thoughtful, living in constant fear to be unmasked. We raise resistant barriers as to that. Are these faces or masks, masks or faces?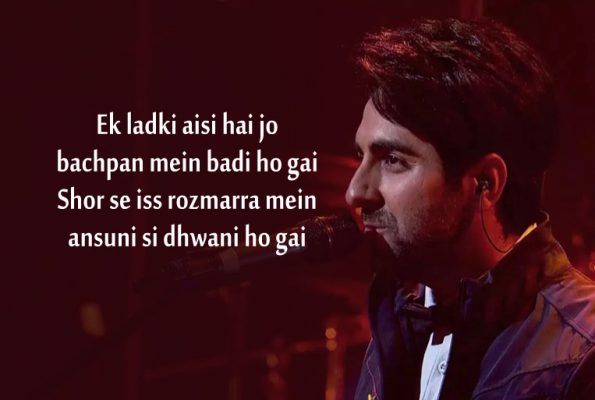 Ardhnirmit:
'Yahan koi mitra nahi hai, koi ashwasta charitra nahi hai,
Sab ardh-nirmit hai, ardh-nirmit imartein hai, ardhnirmit bachho ki sharartein hai,
Ard-Nirmit zindagi ki shartein hai, ardh-nirmit Jeevan pane ke liye log yahan marte hai
Ardh-nirmit hai yahan premiyon ka pyar, ardh-nirmit hai yahan manushyo ke jivan ka adhar,
Aj ka din ardh-nirmit hai, na dhup hai na chav hai
Manzil ke dagar se bichlit chalte pav hai
Ardh nirmit se sehte hai
Na kabhi dekha nirogi kaya ko, na kabhi dil se kaha alvida maya ko,
Hamari ardh-nirmit si kahani hai, ardh-nirmit hamare yuvaon kii zabani hai,
Hum roz ek ardh-nirmit shajya pe lete hue ek ardh-nirmit sa sapna dekhte hai,
Us sapne mei hum ardh nirmit akangshao ko asmano mei fenkte hai
Asman ko in ardh nirmit Akangshao ko samet kar ardh-nirmit hone ka ehsas hota hoga,
Kyoke yeh akangshaye hamari nahi aasman ki hai
Bilkul waise hi jaise ardh-nirmit gatha tumhari aur ayushman ki hai'
We have no friends here, no confidante. Everything is half-hearted, Half-made buildings, half-hearted naughtiness of the children, everyone is wallowing around the half-hearted lives. No lover's love is complete, There is no sun, no shade, we are led astray by faux emotions and lose sight of the goal.
Our health is half-healed, we have never saw a pure soul, healed mind having been lured by the materialistic pleasure. The half-educated youth sprout of half-baked stories. We lie down in half-complete beds everyday and see half-hearted dreams, we lose our aspirations to the sky of nothingness in those dreams.
The sky too must feel incomplete after soaking up these half-completed dreams, because these dreams are not ours, but the sky's, exactly how the half-complete tale is yours and Ayshman's.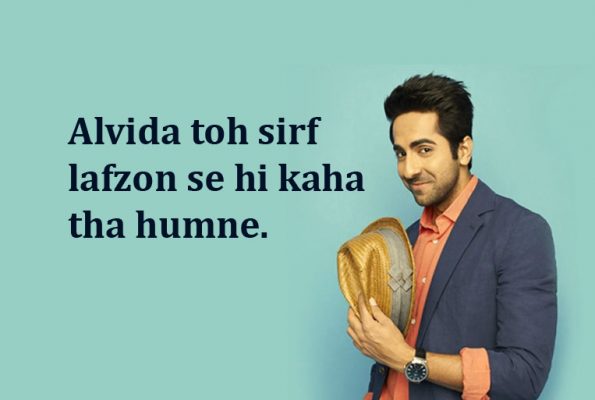 These poems are proof that Ayushman Khurrana deserves all the love he gets.