John Abraham Moments – John Abraham is a mighty name in Bollywood for his looks and chiselled body. Ever since he has given a thunderous performance in Dhoom, he left the India millennia drooling over him.
In fact, John was the first one to buck the beard trend and other actors followed suit. Now that his historic action drama Parmanu is slated to be released soon and the bugle of the battle sounds now. The audience are hastily booking tickets to watch this film based on the Pokhran nuclear test explosion which claimed the lives of many. The likes of Diana Penty and Boman Irani will be his co-stars in the movie and John will be seen portraying the character of Capt. Ashwat Rana donning an army uniform. There by no denying that uniform is the symbol of power which bolsters sex appeal in any man, and John is pathologically sexy.
As we know, this is not the first time John is going to whet the sexual hunger in his female fans, we will give you some instances when he set the temperature soaring in the silver screen before too.
John Abraham Moments –
Paap:
In this crime thriller, John was seen in his signature long hair-ripped physique which really scored well with audience. His shirtless avatar was the main draw of the movie and the shared a sizzling chemistry with the very hot Udita Goswami on the silver screen.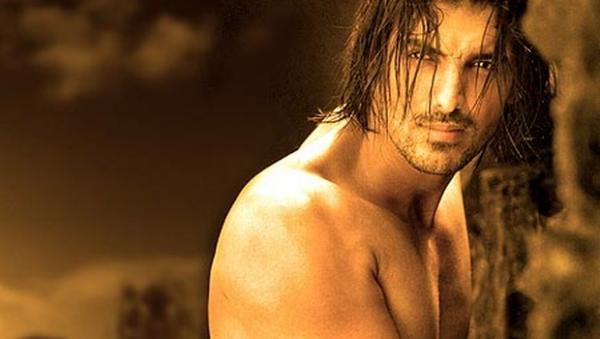 Dostana:
The scene on the beach when John Abraham lowered his shorts to give us a sneak-peak into his butt cleavage below his shirtless body was a feast for the eyes. It was delightful to see him coming out of the waters in his shorts where his magnetic pizzazz spellbound us.
Desi Boys:
Who is going to say NO to a shirtless John? And the Subah Hone Na De song set the temperature soaring with Bruna Abdullah getting John Shirtless and here we had our jaw-dropped in an instant.
Force:
The last scene of Force when Vidyut Jamwal and John Abraham went shirtless probably didn't slip off your mind. While their perfectly carved abs looked like the carefully crafted stone engravings, it was quite a delightful experience for us too to watch.
Dhishoom:
There was a scene where Varun Dhawan and John Abraham went shirtless and simply reduced to a pair of identical orange shorts. John's charisma effortlessly outwitted Varun's and we treated our eyes to watch them boys strutting about shirtless.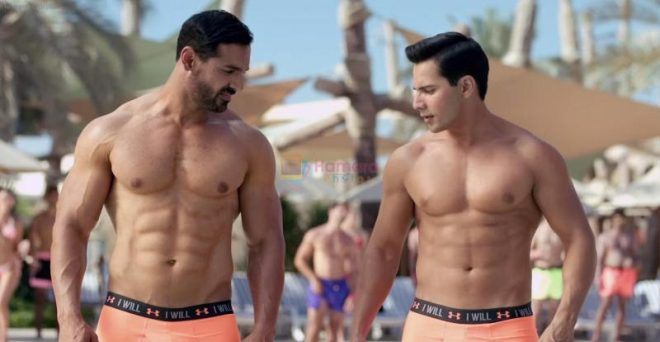 John Abraham Moments – These are the times John Abraham left our senses paralyzed with flaunting his perfect body. No wonder hence, these scene make for the most awesomely hot John Abraham Moments of Indian cinema.