Actor Ranbir Kapoor celebrates his 31st birthday today
His grandfather Raj Kapoor was the original Showman of Bollywood, also popularly known as the Charlie Chaplin of India. Raj Kapoor was a revered celebrity who in his time created some brilliant masterpieces and set the way for the Kapoor family. Before him his father Prithvi Raj Kapoor too gave some brilliant performances like Mughal-E-Azam but from Raj Kapoor the family established its roots firmly in Bollywood.
We are talking about Ranbir Kapoor who may come from such a lineage but not once has he let the power of Kapoor affect him. From the beginning of his career till now Ranbir has stuck to his guts, played roles which called out to him and rarely did he make a mistake. As today he celebrates his 31st birthday, let's take a look at how Ranbir became the torchbearer of the Kapoor family and in many ways seems to have taken the qualities of his grandfather – the Showman.
When you're born in a filmy family like the Kapoors I think it's kind of assumed that all will belong to the acting field. In many interviews Ranbir has been asked as to when he felt he wanted to be an actor but unlike most of the other actors he has clearly denied ever getting the feeling of becoming one. He maintains that in his family it has been a norm that when you can't excel in studies you join movies and that was his reason. Bravo for accepting the truth as it is and not telling us some made up story on how seeing his father or grandfather or any of the uncles inspired him to take up acting.
While Ranbir has never been a film enthusiast he did grow up watching Raj Kapoor and Shammi Kapoor movies that fascinated him to the world of cinema and the hope that it brings with it. Today he can do a perfect impersonation of the two actors and believes he connected with them more over movies than in personal life. Since Raj Kapoor died when Ranbir was six, it was his movies that helped him connect with his late grandfather.
Starting his career with Saawariya, Ranbir entered Bollywood with the burden of the Kapoor name on his shoulders. Audiences always criticize star kids to have it easy in life but the point to be noted is when you belong to such a talent pool of a family you tend to weigh down with the burden. While his movie got thrashed at box office Ranbir didn't let the spark die and slowly and steadily carved a niche for himself in the film industry.
Over his short period of 10 films and 1 about to release, Ranbir has shown many facets to his versatile personality. With each movie, be it a Wake Up Sid or a Rockstar or even a commercial film like Ajab Prem ki Gazab Kahaani, he has made the critics and the audience get up and acknowledge him. My personal favorite of Ranbir will always be Wake Up Sid over any of his other movies. The only reason being that every single moment of the movie I felt I am watching Ranbir as he is in his real life. He got so easily into the skin of the character that he made me forget that in the end it's after all a movie. Only a few actors can display their acting skill so well at such a young age.
Today as Ranbir sits at the throne of Bollywood with almost all his movies doing blockbuster business, he's not afraid to experiment with his roles and doesn't want to get stereotyped into one type of role. His choice to do roles like Rockstar, Barfi, Rocket Singh stem from the fact that he believes in giving up his comfort zone. Even with Besharam he attempts to do an 'all-entertainer' kind of movie and believes that his Barfi fans might slap him for this experiment but he had to follow his instinct.
In many interviews he has stated he has no qualms about super stardom and wants to only become the greatest actor in the world. I know many must think that he's all talk but I think his movies speak on his behalf. An actor who can deliver 7 hit movies out of his total 10 really knows what he's talking about.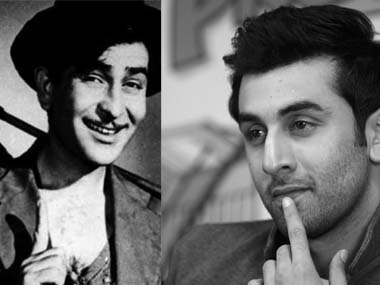 Raj Kapoor once uttered the famous words, "the show must go on." Looks like after him, Ranbir has taken the words seriously and is responsible for taking the family name forward in the truest sense and has kept the show going on. He in fact even got the name 'Ranbir 'from his grandfather whose full name was 'Ranbir Raj Kapoor'. Guess it actually is all in the name!