SC verdict on the infamous IPL spot-fixing and betting scandal. A bonus backgrounder highlighting key events that took place since this scandal was unearthed.
NEW DELHI: The Supreme Court of India has finally pronounced its anticipated verdict on the IPL spot fixing scandal which also cropped up N Srinivasan's conflict of interest case.
The SC said that all BCCI functions are under the power of Indian Penal Code and are acquiescent to the judiciary's orders.
The BCCI has welcomed the order of the Supreme Court and has said that they will hold their Annual General Meeting under the directions stipulated by the apex court body.
BCCI secretary Sanjay Patel said in a statement that BCCI will uphold the decision of the law and follow in its footsteps accordingly.
VERDICT HIGHLIGHTS
After almost 18 months of delay on the 2013 Indian Premier League betting and match-fixing scandal, the two-judge special bench of the Supreme Court has decided to bar N. Srinivasan from contesting any Board of Control for Cricket in India (BCCI) elections till such time since he had explicit 'commercial interest' in cricket. He must relinquish any commercial interests before contesting any BCCI election.
The court also said in its 130 page order that Srinivasan's son-in-law Gurunath Meiyappan, part of the Chennai Super Kings franchise and Raj Kundra, owner of Rajasthan Royals were involved in betting during the IPL stint of 2012 and 2013.
The court said Srinivasan was not guilty of any 'cover-up' and charges against him may be deemed as suspicion. Srinivasan, who is also the first Indian chairman of the ICC (International Cricketing Council) has been asked by the top court to choose between his IPL team Chennai Super Kings or a job in the BCCI since the conflict of interests is at large in the case
The court also dismissed the highly controversial '6.2.4' clause which allows current BCCI officials to own IPL teams and have commercial interests. 'Rule 6.2.4 of the BCCI violates principle of natural justice' the court said.
Srinivasan has been seeking a re-election as BCCI president ever since he was asked to step down, by the court in an earlier judgment during the IPL fixing probe; this time he will try contesting as a candidate backed by East Zone of the BCCI. The elections have to be held within six weeks of Thursday's order to honour the court's judgment. The BCCI has postponed its Annual General Meeting and top post elections twice due to the probe. As per its rules of the constitution, the BCCI AGM should have been held by September 30 last year.
Srinivasan has currently chosen not to comment on the verdict.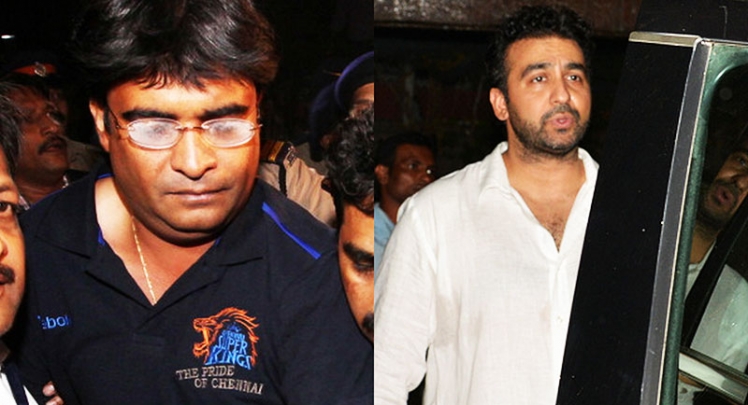 DETAILED SUPREME COURT VERDICT
Supreme Court has read out a 130-page verdict on the IPL spot-fixing case. Here are some excerpts:
1. BCCI is amenable to article 226 which provides courts with a power to issue writs during cases of 'conflicts of interest'.
2. Srinivisan's son-in-law Gurunath Meiyappan and Rajasthan Royals franchise co-owner Raj Kundra are the team officials of their respective teams. They were also involved in betting.
3. SC observes allegations of any 'cover up' against N Srinivasan are not proven yet. At best there's only a case of suspicion against Srinivasan currently.
4. BCCI functions are public functions, and under the rule of law.
5. SC asks BCCI to set up a report committee to look into these aspects.
6. Mudgal committee followed all rules, proved all charges against Kundra, so Kundra cannot challenge the court's decision.
7. Apex court says it doesn't need to review Mudgal committee's findings since they have already been proven.
8. SC: Srinivasan created a situation of conflict of interest by holding dual positions of BCCI boss and the owner of an IPL franchise.
9. BCCI did not adhere to prescribed procedure while conducting probe in IPL spot fixing scandal.
10. No BCCI administrator can have commercial interests of any kind within the sport's confines. The argument that Srinivasan held minor share in India Cements is misleading since his family directly or indirectly holds a larger share amount than stipulated and indirectly influences the working of their franchise, Chennai Super Kings.
11. A game is a game only if it is pristine and free from any sporting fraud.
12. Not only players and team officials but franchise will also be punished if guilty of misconduct.
13. BCCI rule that allowed Srinivasan to own an IPL team is bad as conflict of interest in cricket leads to greater confusion. The rule needs to be amended.
14. Allegations against IPL COO Sundar Raman will be proved further for transparency.
16. An independent committee will decide the fate of Chennai Super Kings and Rajasthan Royals as competing teams in the IPL.
17. A three-member committee has been formed for the purpose that includes previous judgesAshok Bhan, R.M. Lodha, and R.V. Ravindran.
18. Supreme Court bars Srinivasan from contesting BCCI polls for the time being until he gives up his CSK ownership.
19. Supreme Court asks BCCI to hold fresh polls for the position of BCCI President within the next six weeks. Srinivasan can contest only if he gives up his commercial interest in CSK.
20. There is a need to establish institutions of integrity within BCCI.
IPL SPOT-FIXING CASE RECAP
The 2013 Indian Premier League spot fixing and betting case came into the spotlight when the Delhi Police arrested three cricketers playing in the IPL on charges of spot-fixing.
S. Sreesanth, Ajit Chandila and Ankeet Chavan, all three were part of the Rajasthan Royals playing squad in the 2013 Indian Premier League.
In a separate case of betting, Mumbai Police arrested Vindoo Dara Singh and Gurunath Meiyappan for having links with bookies.
Rajasthan Royals and the BCCI suspended the cricketers them from forms of cricket until further investigation since the police also claimed that Chandila had tried to get other players like Chavan to get involved in the spot fixing under the direction of the bookies.
Gurunath Meiyappan, a team principal in the Chennai Super Kings was arrested on charges of forwarding critical team information to bookies. Raj Kundra, owner of Rajasthan Royals was questioned by police. The IPL Governing Council set up an Inquiry Committee to probe the entire case.
Amidst huge pressure of holding two key positions of owning the Chennai Super Kings directly funded by his company India Cements and heading the BCCI N. Srinivasan relinquished his BCCI duties temporarily.
Meiyappan and Vindoo granted bail later on. Sreesanth and Chavan also granted bail. Ajit Chandila granted bail by a Delhi court later on.
The Inquiry Commission found no evidence against Meiyappan and Rajasthan Royals co-owner Raj Kundra. However, the Bombay High Court nullified the inquiry commission's report. BCCI challenged the Bombay High Court's verdict in the SC. The SC refused to declare the Bombay HC's order illegal.
Further verdicts ensued, SC issued notices to the BCCI, N. Srinivasan and Chennai Super Kings owned by India Cements for possible manipulation of evidence. Cricket Association of Bihar moved SC to restrain Srinivasan from contesting BCCI election to protect interests of the general public. SC restrained Srinivasan from taking charge as BCCI President until the probe on his involvement in the scandal gets finished. SC declared a three member inquiry commission to look into the matter, allows Srinivasan to take charge of BCCI temporarily.
After the Mudgal Committee submits report to SC and highlights allegations to be true, SC recommends Srinivasan to step down as BCCI chief and appoints Sunil Gavaskar as interim BCCI chief for IPL's 7th edition. SC turned down Srinivasan's re-instatement plea.
In December 2014, SC orders probe against Srinivasan and 12 others and constitutes an Empowered Probe Panel. Mudgal Committee files report in SC. SC names Srinivasan, three others probed in the Mudgal Committeeinvestigations. Srinivasan cleared in the IPL scam but Meiyappan and Kundra were indicted on charges of furnishing inside information to bookies.
SC opined that Meiyappan's role in the IPL scam is similar to insider trading. SC hints that those named in the Mudgal Committee report tobe kept out of BCCI elections and CSK's franchise could be scrapped later on.
SC proposes a high-powered committee to cleanse cricket of such evils. Srinivasan agrees to keep away from IPL during the probe, seeks SC nod for reinstatement as BCCI President which was later denied.
SC decided to examine the controversial amendment in the BCCI rules which enabled office bearers to own teams in IPL and Champions League over the 'conflict of interest' issue.
SC beseeches players and administrators of BCCI with other commercial interests not to run the game until the 22ndJanuary 2015 verdict comes out in public.
POSSIBLE QUESTIONS ARISING FROM THE SC VERDICT:
1. Will M.S. Dhoni be indicted for conflict of interest since he is the current captain of the Chennai Super Kings and Captain of the ODI squad that is set to play in the current World Cup?
2. Will Gurunath Meiyappan go to jail? Will Raj Kundra face the same fate?
3. Will Chennai Super Kings and Rajasthan Royals be suspended or permanently scrapped from the IPL roster?
4. Will the names of players involved in fixing be highlighted in the Mudgal reports be made public?
5. Will N. Srinivasan be chosen as a cricket administrator again? Will he chose to stay as the owner of Chennai Super Kings which is funded by his company India Cements or entirely relinquish the world of cricket?