While many schools are incorporating and introducing arts as a learning tool gradually and eventually, there are some colleges that we know of which are experts in offering guidance and mentorship in Fine Arts.
While school studies in India is crammed with texts that need to be mugged up, and people believe that art education is not a prerequisite, there are evidences that show participating and studying fine arts have improved learning skills.
The art education comprises of learning music, dance, theatre and visual arts.
It has also been found that art education reduces student dropouts, develops better team players, increases student attendance in classes and promotes an innate love for learning, not to mention enhancing student creativity and preparing students as better citizens of the country.
As a study by the Columbia University claims, "the arts enhance the process of learning. The systems they nourish, which include our integrated sensory, attentional, cognitive, emotional and motor capacities, are, in fact, the driving forces behind all other learning." (Jensen, 2001)
Have you ever noticed how paintings and museums used to attract our attention while as a kid? Art and its various forms exactly do that to people – it captures their focus and attention. It also connects and binds people socially and in a community.
While many schools are incorporating and introducing arts as a learning tool gradually and eventually, there are some colleges that we know of which are experts in offering guidance and mentorship in Fine Arts:
Shanti Niketan's Kala Bhavan (Institute of Fine Arts), Kolkata
A well-established and distinguished centre for learning, researching and practicing Visual Arts, this institute introduces programmes based on teaching different art methodologies and art forms and also how art has evolved throughout our history. There are practice sessions, lectures, exhibitions and forum discussions that help maintain an environment that is art-friendly and students can come to know their specific areas of interest in the arts and also plan and improve their career goals and future prospects.
Started by Bengali laureate, Rabindranath Tagore, the educational institute is known to foster individual creativity and caters to five major streams of studies, viz. Painting, Sculpture, Graphic Arts, Design and Art History.
Eligibility: For Bachelors in Fine Arts (BFA) course or Diploma in Painting, 55% aggregate marks or its equivalent is the minimum required criteria for admission, while Masters in Fine Arts (MFA) candidates or students wanting to be enrolled for the Advanced Diploma course should have secured a first division in painting, sculpture, graphic art or design (ceramic, glass and textile) in their BFA in each specialized subject from each department of Kala Bhavan. However, diploma holders have to appear for the admission test for Advanced Diploma course.
The UG course includes four year BFA (Hons.), diploma courses in painting, sculpture, graphic art, design and History of Art.
There is also a two-year Certificate Course in Design and one-year Casual Course for Indian Nationals in Painting, Sculpture, Graphic Art, Design and History of Art.
The PG course incorporates two-year MFA and advanced Diploma Courses in painting, mural, sculpture, graphic art, design and History of Art.
Faculty of Music and Fine Arts, University of Delhi
This institute has had fifty long years in collaborating classical music with the Gurukul music system and the university system. With courses at both undergraduate and post-graduate levels, students are exposed to both forms of Visual art, i.e. Creative and Applied art. The four-year BFA course includes programmes in Applied Art, Art History, Printmaking, Painting, Sculpture and Visual Communication with special focus on outdoor practicals, studio practical sessions, research in particular fields and other theory subjects. At present there are B.A. (Hons)., M.A., M.Phil., Ph.D., Diploma Course, One Year Certificate Course and short-term courses, apart from Hindustani and Karnatak music that have grown as parallel schools of music in this particular department.
Eligibility: For a BFA course in Painting, Sculpture, Art History, Printmaking or Visual Communications the basic eligibility criteria is clearing Class 12th boards, while for B.A.(Hons). (Hindustani Music), if you have secured aggregate 50%marks in DU exam or exam by any other recognized university, you are eligible. Same goes for the eligibility criteria for B.A. (Hons). (Karnatak Music) and for M.A. courses in Music.
The subjects studied in the 3-year Fine Arts course range from drawing, painting, figure drawing, portraiture, and water colour to art-making concept development and art history critique.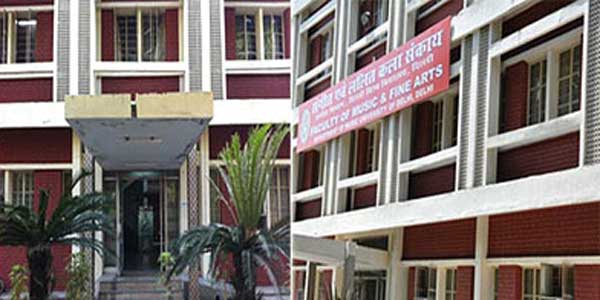 J J School Of Arts, Mumbai
Started in 1935, this institute started functioning independently only in 1961, away from the umbrella of J.J. School of Art and affiliated with the University of Mumbai. This college believes in evolving with time and providing education both contemporary and relevant.
Eligibility: The candidate requires 50% aggregate marks (for general category) and 45% marks for other backward classes in 12th standard, either from the Maharashtra State Board of Higher Secondary Education or a recognized board for admission in the 4-year BFA course. The candidate also requires to have cleared the Intermediate Drawing Grade Examination of Directorate of Art, Maharashtra. Thirdly, the candidate also needs to have passed the Entrance Aptitude Test hosted by the institute that is also prescribed by the University of Mumbai. For MFA course, candidate is deemed eligible for admission to the Master of Fine Arts (Painting) degree course only if s/he has passed the examination of this University or an examination of another university recognised by Mumbai University. The candidates seeking admission to the diploma course must have passed the SSC Examination (Class 10th boards) conducted by the Maharashtra State Board of Secondary Education or an examination with English as one of the subjects. Diploma/Degree in Drawing and Painting or Sculpture and Modelling or applied Art students will be admitted for Diploma in Art Education Course.
The students get professional and specific trainings in visual communication. Several subjects such as Photography, Illustration, Computer Graphics, Lettering-Typography and Exhibition Display Design are taught here in these trainings.  The first year is referred to as the "Foundation" course in Bachelors, while the later three are called "Specialization" years. You will need to choose from among the above mentioned subjects if you are a student here.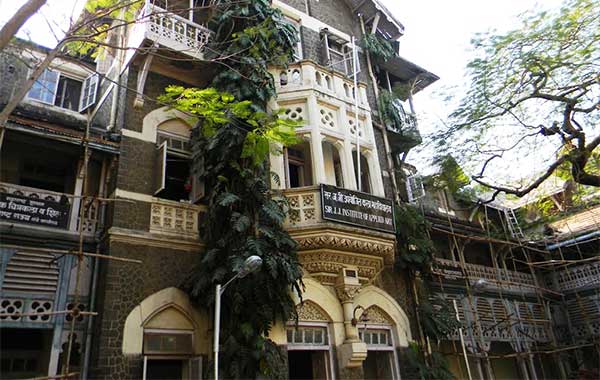 Faculty of Visual Arts, Banaras Hindu University, Varanasi
One of the leading and renowned institutions of Fine Arts, this offers both UG and PG courses in Fine Arts as well as research programmes in specific areas of study. You can learn Applied arts, Plastic Arts and Painting here. Many foreign students too get lured to study here. The programmes here are focussed on standard art activities across the country and organize art fairs and exhibitions much often. Both the BFA and MFA courses focus on Painting, Plastic Arts, Applied Arts, Ceramic Pottery & Textile Design as specific subjects of study. While the bachelor's course extends to 4 years, the total duration of the Masters course is two years.
Eligibility: You would need an aggregate of 50% marks in class 12th and the same percentage in the concerned subject in graduation for an admission into the BFA and MFA courses respectively.
The admission to MFA course is through BHU post-graduate entrance test (P.E.T.) and it consists of one theory paper of 60 minutes that carries 150 marks.
The course structure is decided into theory and practical, where the student can choose his/her supervisor for the practical subjects (Pottery Ceramics, Painting, Plastic Arts, Applied Arts, Textile Design) and has to select the choice of subject in consultation with the supervisor.
The theory paper is divided into paper I and II for 1st year and paper I, II and III for the 2nd year. Paper I and II teach you about Aesthetics & Principles of Art Appreciation and History & Technical Theory (of the subject concerned) while Paper III is the dissertation and viva voce.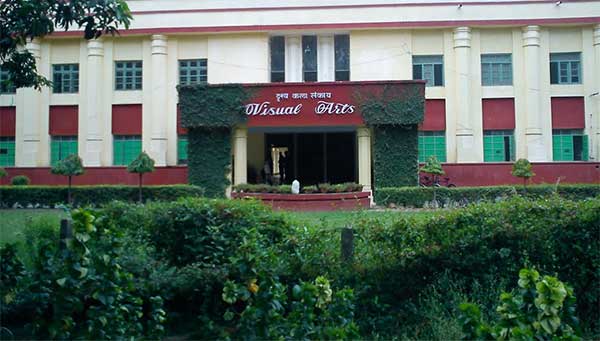 College of Art, Delhi
Established in 1942, this college provides for an advanced training in Visual Art, both creative and applied, in BFA and MFA courses. The college is held in high prestige for its holistic and all-comprehensive approach towards industry specific courses, like those of Painting, Sketching, Applied Art, Sculpture, art teaching and Photography.
Eligibility: The candidates looking for admission in the BFA course are required to have cleared Class 12th boards, CBSE, ICSE or Intermediate exam with all subjects of the Indian University/Board recognized by the University of Delhi with aggregate 50 % or more marks.
The eligibility criteria for MFA is to pass the BFA course with 50 % total marks and a concession of 5% is allowed for people belonging to SC, ST and OBC classes as well as widows and/or children of the defence and the physically handicapped.
The first year of BFA is an intensive one-year study termed as the Foundation Year that provides basic training in art and design. It introduces to subjects such as drawing, clay modelling, printing, geometry and perspective, materials and tools and exercises in form, aesthetics and concepts, etc.
You can, in the next three years choose to specialize in Painting, Sculpture, Art History, Applied Art or Printmaking or even Visual Communication. MFA courses further enhance the skills and knowledge in your specific fields by providing with expertise in directing an ad campaign and concepts of Cell animation in Applied Art, exploring opportunities in high level content based projects and sculptural work in sculpture specialisation. In the Printmaking specialized course in Masters, you will be trained to understand the Art industry better through professional examples on the usage of apt visual media, including freehand and drawing and computer technology so that creating art forms digitally. The visual communication specialization course looks to use professional examples from freehand and drawing to digital technology to make you understand the industry needs and procedures.
Some other colleges and educational institutions such as LS Raheja School of Art, Mumbai, Bharti Vidyapeeth College of Fine Arts, Department of Fine Arts, Kurukshetra University, University College of Fine Arts, Mysore, Departrment of Fine Arts, Aligarh University and Amity School of Fine Arts, NOIDA, also provide with extensive course structures and details in the Fine Arts study.
After studying liberal arts and foundation art, student is exposed to different media where s/he can choose from different specific areas of study such as the use of colour, perception, advanced aesthetics or a specific medium like water colour, sculpture or printmaking. By the time you graduate or post-graduate you will be an expert in design techniques, supervising individual projects, hosting art seminars and portfolio development.
It is high time we change the public sense and understanding that art education is not essential and shift our focus towards a careful analysis of the deeper forms of beauty, if we want to grow up as learned and academically trained individuals and good citizens of the country.