College information about Kirti M Doongursee College of Arts, Commerce & Science, Mumbai.
About
The foundation stone of Bombay College was laid by great champion of women's cause in India, Maharshi Dhondo Keshav Karve and college finally started in the year 1954. In the year 1960 (the 75th anniversary of the society) The Bombay College was renamed as Kirti M. Doongursee College. While Kirti College belongs to the family of Deccan Education Society' being a constituent college, it also belongs to the family of the University of Mumbai.
The Deccan Education Society(DES) management is trying to expand its educational activities as per the requirements of the society in general, guided and aided by educationists, visionaries, philanthropists and ex-students, in order to pursue its goal 'Knowledge is Power'. Apart from academic courses, the college provides number of opportunities for students to develop their extracurricular talents and to realize fully the potential of their personalities as young men and women.
Courses
F.Y.J.C. (Std XI) Commerce classes and S.Y.J.C. (Std XII) Commerce courses are offered by the Junior College of Arts and Science. The first year divisions in Arts and Science of the new three year degree course were introduced from June 1979. The College now boasts of full fledged Commerce faculty imparting instructions leading to the B. Com Degree. The college also enrolls students for M.Sc. and Ph.D. For more information on courses offered click here.
Facilities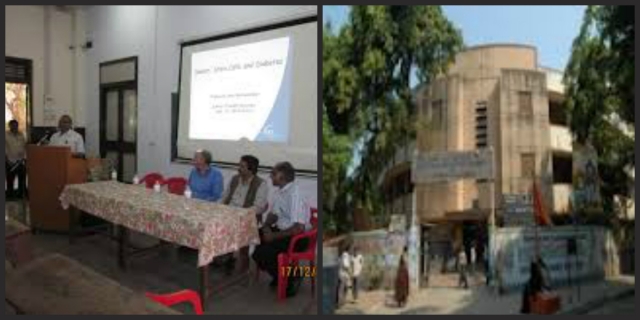 Kirti College boasts of fifteen laboratories well equipped to cater to the needs of PG and UG students.
The library has separate reading section for teachers and PG students. It has a separate enclosure i.e. Common Facility Centre having computers with internet connectivity for teachers. UGC Network centre has also been installed in the college.
Apart from the academic facilities, extra/co-curricular activities are also encouraged. The gymnasium includes modern equipments for body toning and fitness. An international standard boxing ring has been developed recently. The college playground is made available for intra collegiate and intercollegiate tournaments like kabbadi, kho kho. The gymkhana makes equipments for Judo, wrestling, taiekwando, high jump discus throw available to the students.
Contact Us
Kirti M. Doongursee College of Arts, Science and Commerce, Kashinath Dhuru Road, Off. Veer Savarkar Marg, Dadar(W), Mumbai-400 028.
Website : www.kirticollege.org
Email : [email protected]
Telephone: 022 6124 4502