1 – Chance to meet the biggest sports stars and brands: At Chakravyuh, one not only gets to compete against the best teams from across the country but one also gets a chance to meet some of the stars of the sports fraternity. At last year's Chakravyuh, we had 2011 Cricket World Cup Winner, Mr.Piyush Chawla as our 'Chief Guest' at the Opening Ceremony and for this year's event we have raised the bar by having South African legend and Director of ESN, Mr.Jonty Rhodes to grace the Opening Ceremony. ESN or Evolution Sports Nutrition is one of the world leaders when it comes to sports nutrition. ESN was started to provide world class nutritional services in India and with the presence of Jonty Rhodes, it has become an even bigger name, worldwide.

2 – 72 hrs of non stop sports action- Chakravyuh holds the unique distinction of being one of the only sports fests which goes non-stop during the 3 days of the event. Also known as the Olympics of B-Schools, Chakravyuh has been the pioneer of sports fests in India for the last two decades which consistently generates a footfall of more than 8000. 8 exciting sporting events like Cricket, Football, Basketball, Volleyball, Table Tennis, Badminton, Tennis, and Throwball will take place non stop during the course of the event.
3 – Opportunity to interact with the entire B-School fraternity: Chakravyuh gives you a chance to battle and interact with 25 different teams from other top B Schools like FMS, MDI, IIFT, IIM's etc and bond over sports. The full contingents from all the B-schools stay in the campus during the three days of the event and despite the rivalry, the atmosphere remains friendly.
4 – Association with corporates and amazing offers: Some of the best known corporates associate with Chakravyuh every year. Chakravyuh'18 has association with names like, BHIM as our Title Sponor, and ESN & Vodafone as our Co-Sponsors. We also have other big brands such as Sparx, Hotfut, Zebronics&Spykar as our associates for the event.
5 – Chance to beat IMT in their own den: IMT is known for its sporting culture with its students getting numerous laurels at various B-school fests and tournaments. Chakravyuh becomes even tougher as it takes place at IMT's own den and beating them here is a monumental task.
6 – Cultural performances and events: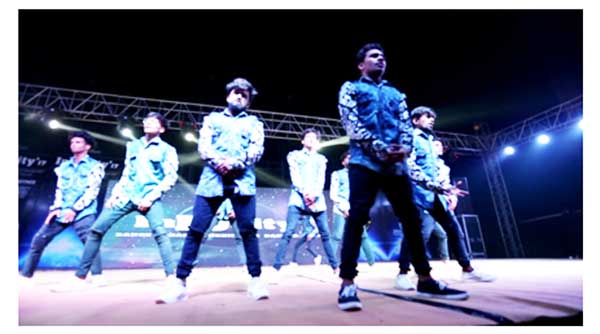 IB Dance Group
At the opening ceremony, apart from getting a chance to see Jonty Rhodes, cultural performances of renowned names like IB Dance Group, Fireworks show and Silhouette Squad will be giving an electrifying performance. Also at the second day of the Chakravyuh, there would be Zumba along with the much awaited Poker Night.