The founder of the Reliance Industries, who is now one of India s largest industry  Dhirubhai Ambani. He has created his own dream and made them true, the reliance industry bloomed up after the introduction of the mobile phone in the market.  Affording a mobile phone was not possible for the common person. Communication is a need and not a luxury it was clear to the leader. This is the reason that the first Indian mobile phone was from the Reliance with the GSM sim. The mobile phone had given a great platform of success to him and his business A great market was snatched from the other competitors.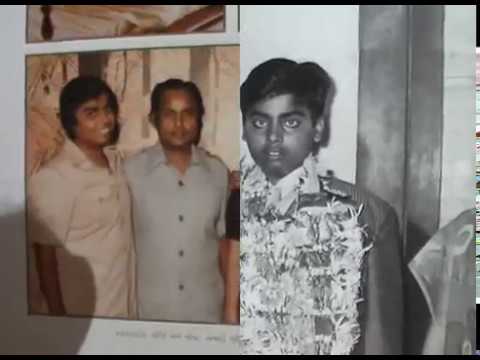 But he did not have any back-up or investment, he did the entire business on his own. No! He did not gain success at the first step, his first partnership business with Damani his cousin was a failure. But he did not give up and started looking forward to new business ideas. Finally, his first great approach was through the business of mobile phones.
Dhirubhai Ambani, his ideas and placement
India has one of the world's largest biggest industrialists because of great thinkers like "Ambani". Communication became easier with changes in telecommunication. Later other companies from India evolved to produce phones at an affordable rate, TATA is one of the popular industries that we know. He did not have anything great to provide his team members to accept ensuring them to believe in their leader and trust him for a better successive future. It is a challenging position after the immediate failure of a business that has hardly been a year.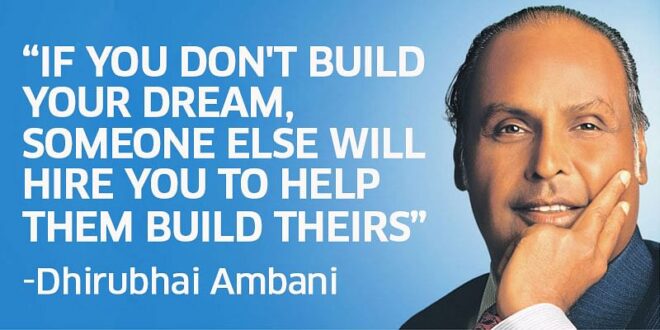 Staying in the Mumbai Chawl for years and struggling for his ambition to explore as a successful industrialist was his determination. He was clear about his goals and chalk out his own way to develop his empire. Being a son of a school teacher he was not highly educated but his intentions to become a good businessman were clear.
One of his great inspiring quotes that inspires " If you don't build your dream, someone will hire you to help them build theirs".  So, it will always motivate the new lined up start-ups who are stepping forward.
A hard worker…..
His life story never explains him as a person born with a silver spoon in his mouth, rather he earned a few lakhs by selling silver, the Yemen rials in London. He sold it to the Bullion traders of London. Dhirubhai Ambani returned back to Mumbai and started the business as a commercial corporation in an office space of just 350 sft.  Unexpectedly true when comparing with the peak of success globally, with the establishment related to oil, communication, and real estate.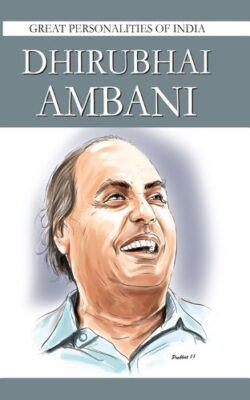 Dhirubhai Ambani was born in Gujarat, he uses to sit in the food stall to earn some money, started with a textile business with the name "Vimal" that turned to grow as a textile brand of India. His ladder to success was not for himself but for his employees and family members. Hence at his time of death, the Reliance industry has a turnover of 65,000 crores Indian money.