Not too long ago, Canadian Prime Minister Justin Trudeau visited India and Narendra Modi was in no mood to hide his fondness for this philanthropic foreign leader.
They embraced, tweeted at each other, sent birthday gift to each other which dropped hints at their camaraderie. It is abundantly clear from Modi's gestures and hospitalities that he is striving to make India a global player in International affairs.
Canadian Prime Minister Justin Trudeau had his family in tow when he visited India, he was accompanied by his wife one daughter and two sons, the youngest of whom became an internet sensation in a matter of few hours stealing the thunder of Abram, Shah Rukh Khan's younger son and Taimur Ali Khan, son of Saif Ali Khan and Kareena Kapoor Khan.
Trudeau is highly regarded for his tolerance towards various ethnicities and has also attended Diwali dressed in Sherwani to make the Indian community in Canada feel at home.  Apart from being an adept leader and humanitarian, Justin Trudeau has a charming personality and great smile to say least. But, all hell broke loose when he visited Indian temples wearing blingy Sherwanis while his wife and children dressed in Indian attires alike. Their outfits were so over-the-top that it attracted winds of trolls and became the butt of all jokes.
Not only in temples, Trudeau seemed to pose for photographs with Bollywood actors wearing Sherwani.  Whoa! He tried too hard to impress and of course, the Twiterratis that are always on the prowl for potential laughter topics, made jokes on Trudeau's expense.
So, here are the jokes that were doing the rounds over social media for quite a few days:
Indian actors with Canadian citizens:
In this photo Trudeau's Sherwani gives us a feel of visiting a marriage function while Shah Rukh Khan is rather smartly dressed in a black suit.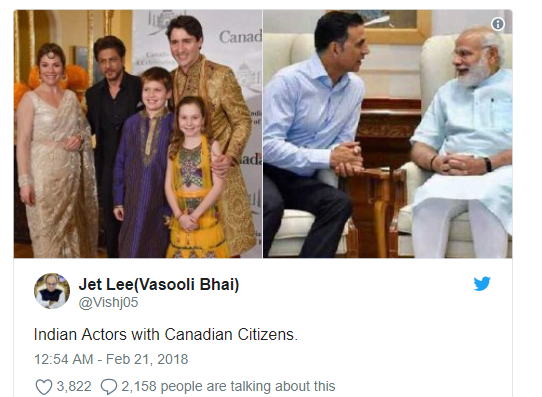 Kabhi Khushi Kabhi Gham Revisited:
Huh?! The perfect Raichand family looks so much complete here. Here's Justin Trudeau is referred as Rohan Raichand while Shah Rukha Khan Rahul Raichand. Trudeau's wife perfectly fits the criterion on Poo just Anjali is missing.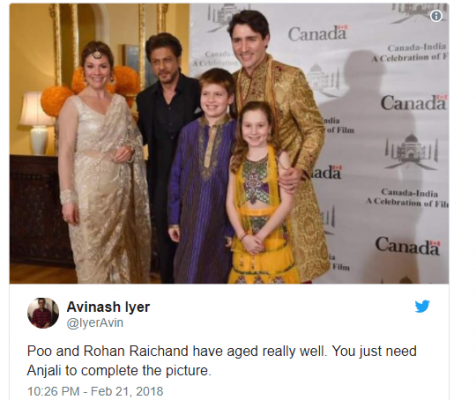 Guess who is RSS's favourite:
Here Trudeau looks more Indian than Shah Rukh Khan, much to RSS's amazement.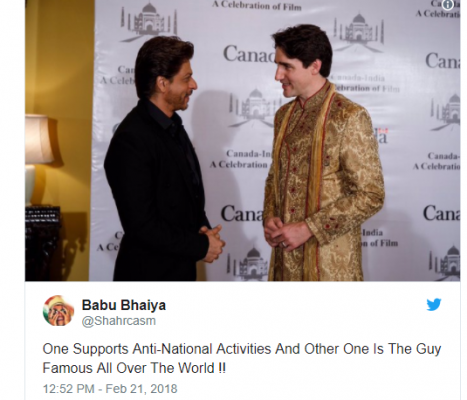 This is what happens when you take Yoga too seriously:
Looks like the whole family is just out of a Yoga class, they are still under the spell of it. That Namastey is so extravagant.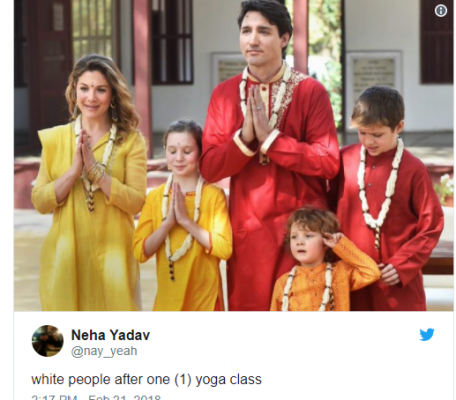 Ham actors:
This is height of over acting man!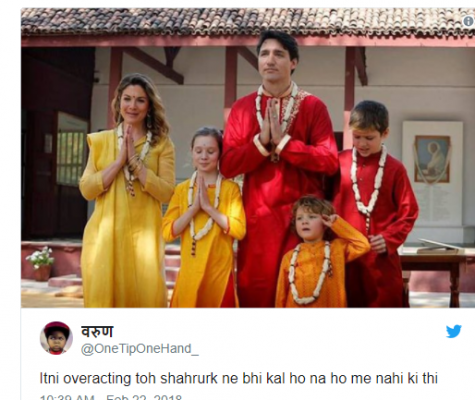 These are tear-inducingly hilarious. Twitteretis can be so mean!