Sufi Music – Sufism is all about unravelling the divine truth and concreting one's relationship with the creator through Islam.
The word 'Sufi' was derived from the Arabic word 'suf' or wool which refers to the garments worn by the ancient practitioners of this faith. Sufi made its headway into India during the wee years of Delhi Sultanate with a repertoire soul-stirring poetries and music. Sufi music is transcendental and vows to create a communion between the musicians with the divine.
Sufi singers align their music with poetry performances which swings open many dimensions on the songs for you to perceive. If you delve deeper in the thoughtful words, you will find the pacifying ambiguity therein.
Judging by what the famous Sufi philosopher and practitioner had to say about Sufi, the word is connected with 'Safi' which means pure, so there are contradictions about the origin of the word Sufi. The said Sufi philosopher, Hazrat Inayat Khan was also quoted as saying, " Any person who has knowledge of both outer and inner life is a Sufi.
How Sufi music spanned countries:
Sufism highly regarded for reconciling brotherhood among countries through its music. The heightened emotions of Sufi music have its roots in Morocco, Egypt, Senegal, Indonesia, Turkey, Iran, The Balkans and Caucuses.  The classical Arabic poetry incorporated with the music leaves you in a trance. The 'brother performers' hold hands in a circle, chant and dance and refute rhythm. On the contrary, in Syria and Turkey, Sufi music has melancholic melodies, it is called 'Dervish' there and performed with the musical instruments like Our, Rabab, Qanun, to Ney and Zukra.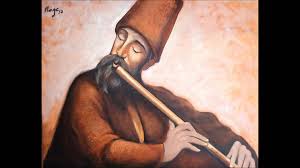 How Modern Sufi music was introduced in India:
Sufi music is called Qawwali in India. It was introduced in India by Shankar-Shambhu and Nusrat Fateh Ali Khan which took the audience to an emotional rift. There have been a significant overlapping of others music genres in India before Sufi found its feet in Indian subcontinent, such asQawwali, Qaul, Qalbana, Ghazal and other folk music. Sufi is considered to be the 'Food for the soul' aims at ceaselessly repeating god's name to arouse divine ecstasy through the music and poetry. This process of repetition is called zikr. The song text of Qawwali is written in Farsi, Hindi and Urdu, Imbued with metaphors and imageries while in India it is performed with the accompaniment of a barrel-shaped Dholak and Harmonium. There are famous shrines of the bygone Sufi saints which are predominant tourist destinations in Delhi and Ajmer are, Shaikh Nizamuddin Aulia's shrine and Khwaja Moinuddin Chisti respectively. The yesteryear's Sufi singers were believed to be trained by Amir Khusru, the ardent disciple of Shaikh Nizamuddin Aulia.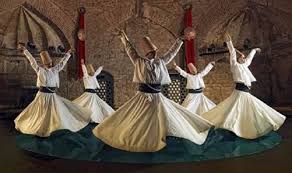 However, Qawwali found an elbow room in modern India throughHindi movies and the first ever Qawwali appeared in the film Mughl-e-Azam (Teri mehfil me kismat), but what really pains us is that the Qawwali has lost its archaic charm the mysticism being replaced by profanity to suit populist pandering.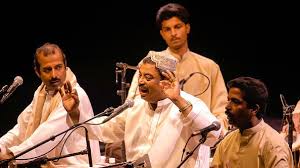 We still hold our hopes high as AR Rahman is working indefatigably to recover the old form of Qawwali from the nick of sparse.