Here's how you can manage your expenses well to stay away from the month-end, no-money-in-wallet situations….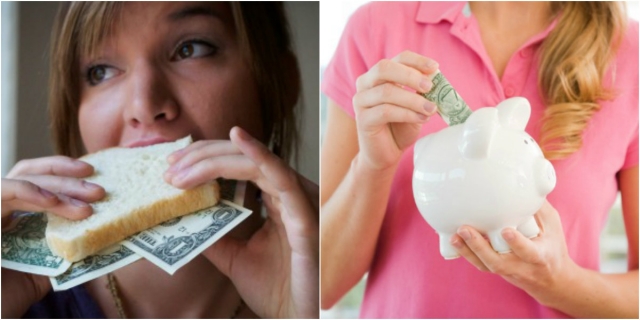 Manage your expenses well to stay away from the month-end, no-money-in-wallet situations. Here's how:
Make a budget: I know it sounds boring and uncool but none of your friends really has to know that you are making a budget: The only idea behind is to track your spending. We all are given only a definite amount to spend in college every month, so you already know how much money you have in a month. Make a list of all the essential expenses and allocate a certain amount to each. Then, on a daily basis, note down how much you are spending on every other little thing which could be as small as a cigarette. Once you have a log of how much you have spent and where, you will be able to cut down on unnecessary expenses.
A cheap date plan: If you are planning to get hooked up with someone or propose her, and thinking of asking her out on a date, keep your wallet sorted first. Decide how much you can spend and then make a plan. Even if you want the lady to pick the place, you give her the options which suit your pocket. How about catching up over coffee, or attending college activities together, or watching a play instead of a movie, or just strolling around the campus, or eating at pocket friendly places? The idea is to strike a chord and get going, so even a bowl of maggi at your place or from the roadside should do the needful.
Cut down on cigarettes and beer: For most of us, it's during college life that we start smoking and drinking. We don't even come to know when we turn into smoke emitting chimneys and start drinking like a fish. Not only is it bad for health, we also end up spending a sizeable chunk of our monthly pocket money over it. The only way to save your health and money is to either stop smoking and drinking completely, which may not seem as the idea to many of you, or cut down on the number of cigarettes you smoke a day and how often you drink. Instead of buying a packet, buy one cigarette and restrict your beer plans to only one day in the week. Never get into the habit of stocking your fridge with beer bottles.
Eat breakfast at home: If you are a hostelite or live in a PG, you would be invariably spending on all three meals outside. I know it becomes a bit difficult to handle what we eat when our moms are not staying with us. But what you can do is atleast eat breakfast at home. It will be way too healthier and cheaper than the breakfast you order from the canteen. A bowl of cornflakes with milk and some chunks of bananas will keep you filled till the lunch break.
Buy used books: While second hand books are a good option, you can also look at photocopying books which are difficult to find. There are always those rare, special books which your professors or friends have, and they seem way out of your pocket, just get them Xeroxed.
Cut down on treats during the day: Avoid looking at Barista or CCD for your cuppa and drink coffee and tea from your canteen. If you don't like the taste, try the thele wala outside the campus and if you still don't like it, make it yourself. Once the college gets over for the day and you still wish to hang out with your friends, look at your canteen or a friend's home or the roadside eatery, instead of even slightly fancy places.
Shop in limit: It gives a sense of general happiness to dress up well for college everyday. If you are one of those who would love to wear something new to college everyday, then you need to tweak your spending habit a bit. Don't look at brands and buy cheap clothes from the Colaba Causeways, Sarojini Nagars and Janpaths in your city.