Pakistani actress Veena Malik is going to shed her inhibitions in the Friday release 'Supermodel'. Will you watch this flick?
Pakistani model and actress, Veena Malik, is gearing up for another run in Bollywood after her disastrous debut. The curvy actress will be seen in the role of a sexy super model in the upcoming movie 'Super Model', which is based on the ups and lows of the glamour world. Unlike Madhur Bhandarkar's 'Fashion', this movie will have a murder case where the prime suspect is Veena!
Can the Pakistani hottie deliver a hit this time? She can definitely sex it up oscreen, what with booty to boot. But can she act as well? Will this movie be a turning point in her career? Despite the premise and plot of the movie being rather 'front-seat' audience type, we are ready to bet on ehr this time. Because sex and suspense sell…and this movie is going to have plenty of these two.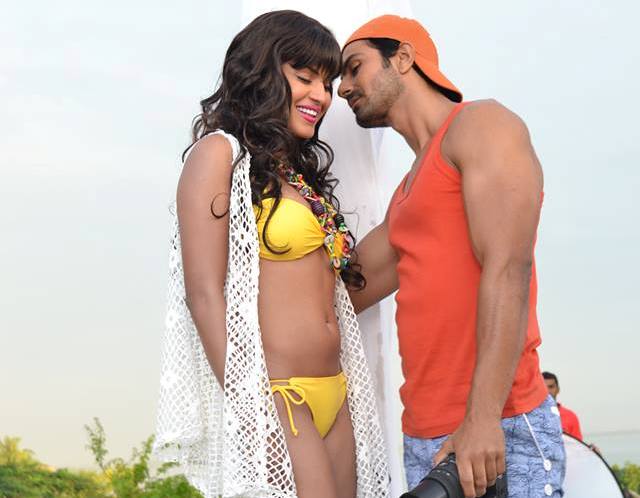 What would be even more interesting to watch would be Veena doing intimate scenes with her alleged former beau Ashmit Patel who plays a photographer in this movie. The two shared a rather steamy connection while shooting 'Nazar', but fell apart due to differences. Post their 'break up' of sorts, the two didn't even acknowledge each other at parities and gatherings. But with a lot of intimate scenes in Super Model, the two seemed to have buried the hatchet. Whatever the reason may be, it's an interesting cast and their loyal fans would love to see the two's crackling chemistry on the big screen!
The actress was recently seen reprising Vidya Balan's 'The Dirty Picture' role in the Kannada hit 'Dirty Picture: Silk Sakkath Maga' and before that she was seen flaunting her assets in 'Zindagi 50 50'. Is the actress consciously trying to slot herself as a sex siren? Considering that she began her career as a comedian, does the diva now want to leave those days behind her? But does she have the necessary assets to look the part of a supermodel? She may be curvy as hell, but can she give out the haughty arrogance that comes with being a supermodel? That's for you to find out tomorrow!