Is Akshay Kumar the ultimate Khiladi of Bollywood? He is fit to play Boss, we think!
Despite most masala movies tanking at the box office this year, producers are not afraid to churn out formulaic movies by the dozen. The latest being Akshay Kumar's action potboiler 'Boss' that releases on 16 Ocotber, 2013. As we wait for this movie's fate, we tell you why Akshay is perfect for a movie called 'Boss'. Read on: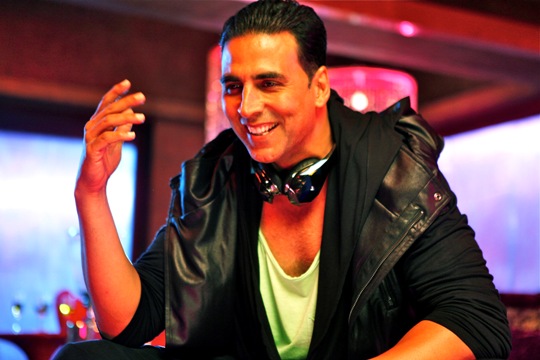 He is the ultimate Khiladi:
Before he switched gears to comedy, the Punjab da munda was a full blown action with a string of 'Khiladi' movies under his belt. His brand of dhishush dhishum was so famous, he was given the moniker 'Khiladi Kumar' by the Indian media. In fact, it was while working on 'International Khiladi' that he met wife Twinkle! The 90s sure saw Kumar's best fights and action elements and his diehard fans would be thrilled to watch 'Boss' this Wednesday.
His martial arts background:
He is trained in martial arts, hence fighting comes naturally to him. His stunts and jumps done look made-up on screen as he knows when, where and how to deliver punches. Even for the audiences, it's a fun experience as everything on the screen looks real and believable. He will be hoping to recreate the same magic with the upcoming move 'Boss' and let's just hope that he doesn't disappoint us. Being a versatile actor, adapting to different genres isn't tough for him at all! He also boats of 'attitude' that comes from being superb and skilled. What's not to like, then?
Rs 100 crore hits:
His previous action movie 'Rowdy Rathore' of mindless movie fame, crossed a whopping Rs 100 crore at the BO. If you really see, there's not much of a difference between Rowdy and Boss, there's going to be the same amount of fights, illogical plot, mother/heroine sentiment, a couple of romantic songs, punch dialogues and a stroyline borrowed generously from the South. So if Kumar can ace Rowdy, what's going to stop him form smashing Boss in the face! The producers are also at minimum risk as his loyal fans, who enjoy his action movies, would definitely come flocking to the cinema halls.
Body beautiful:
Where other actors are busy pumping up, this 40-plus star has an enviously lithe body that can be quite dangerous when used perfectly. He might not have Salman Khan's famed torso or Sunny paaji's 'dhaai kilo ka haath', but he does have a toned and disciplined physique that makes him the true Boss of Bollywood. With a strapping personality and a decent looking face, he can definitely bring in the crowds. And if you enjoy his brand of spontaneous fighting, this movie is made for you! The fact that he hasn't given into temptation and bulked up goes onto show how comfortable he is in his own skin. Perhaps this makes him more real and approachable to fans. Does it?
Punch dialogues:
From 'Don't' Angry Me' to 'Beech Mei Na Bol', he is the boss of punch dialogues. What's cool about him is that he says all his dialogues with a patented smirk, unlike others who wear a serious facade while delivering taglines. Have you noticed how he flashes his crooked pearlies before saying something witty to the goon? Of how he nods his head in a knowing manner and delivers both the punch and punch dialogue? Well, that's his trademark style, which makes him irrestsible to his fans and followers.
Do you think he is fit to be the Boss of Bollywood? Is the the best action hero we have got in town? Do tell us in the comments section who your favorite action star is and we might just do a feature on him! C'mon, keep the comments coming in.