We tell you what you can learn from the recently released superhero flick 'Krrish 3'. Take a look!
The recently release superhero movie 'Krrish 3' is doing a roaring business across the country and is touted to be the next big hit of Bollywood. Full of masala, predictable twists and sleep-inducing songs, the movie may not make it to everybody's must-watch list. But here are some things you can learn from this flick.
Sacchai ki jeet:
The opponent can be hundred times more powerful than the hero, but the hero will defeat him at the end. No matter what the consequence, good always triumphs over evil. Yawn.
Monologue with the lord:
A good Bollywood flick is measured by the number of monologues with the lord in the movie. It could be the hero rattling off verses or in this case, hero's father Rohit (Hrithik Roshan) talks to the god to save and protect his son. Meh.
No vamp, only anti-heroine:
Kangna Ranaut is a mainstream actress and there's no way she will go total baddie. So the mutant in her falls in love with Hrithk and she turns from an anti-heroine to a sacrificing mutant.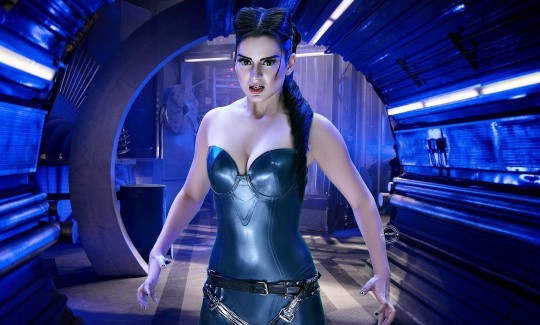 Even mutants dance around the trees:
You thought that dancing around the trees was the prerogative of the lead actress? You thought wrong. Because Kaaya, the chameleon aka Kangna Ranaut has a love ballad 'Dil Tu Hi Bata' with Hrithik.
No one dresses poorly:
Despite Krishna (Hrithik) not having a regular job, he dresses uber rich. And his wife Priya (Priyanka Chopra) wears shorts mega minis and Luucknawi chicken work kurtis, which no 'Aaj Tak' journalist can afford. Even Rohit sports a Chinese collar on his lab coat. Damn it!