Sridevi Walked Barefoot To Siddhivinayak – No matter what their past is, one has to admit, that Sridevi and Boney Kapoor are one of the strongest going couple in the Bollywood industry. Today, they're very happy together and are proud parents to two darling daughters "Khushi and Jhanvi".
They've been through their tough times together. The best part is, no matter how tough the situations were, they faced it together in the name of love. They're still going strong and nothing can beat that. Nowadays, both are busy promoting their upcoming movie "MOM", which is also said to be Sridevi's 300th film.
Recently, along with Nawazuddin Siddique, they appeared together on a Marathi show "Chala Hawa Yeu Dya" to promote their film "MOM". They certainly had a lot of FUN and it was an entertaining episode. Other than that; it was really surprising to see how Boney Kapoor was praising Sridevi so much. He made it very clear that "Sridevi is the best wife and best mother". Well, other than that, he also revealed a lot of things which were definitely surprising. When Boney Kapoor was asked about how good Sridevi is, without thinking anything, he said something really heart-touching which proved "Sridevi's love for him".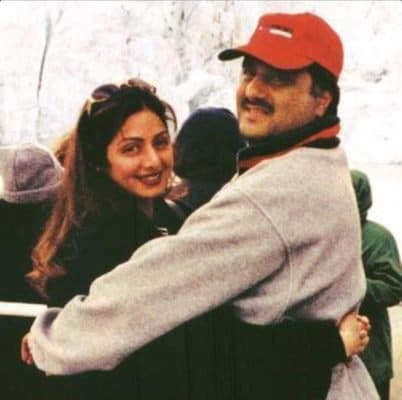 He revealed "there was a time back in 2005, and his film "No Entry" was facing a problem during the time of it's release. So, it was quite a tough time because there was a possibility that the movie can also turn out to be unreleased. The time was really bad, but it is all because of Sridevi that the bad time turned into good time."
During that tough time, Sridevi really walked barefoot from their residence to the Siddhivinayak temple to pray. Boney Kapoor revealed that her prayer really helped a lot and she indeed is the best person in his life.
Honestly, this incident proves that true love can make you do anything. Small things like this are something that brings two people close together.
This was the reason why Sridevi Walked Barefoot To Siddhivinayak.