Rapunzel braid – Shilpa Shetty is one of the smartest actresses who still hogs the limelight and steals the thunder in the red carpets.
She is married to the industrialist Raj Kundra and they have an adorable son Viaan. She recently posted some saree-clad pictures of her in Instagram which has created ripples in the media and now she is making the headlines with her new hairstyles.
Lately, Shilpa has released her yoga and fitness video to inspire women around the country for living healthy and looking good. She too is a style icon who can surely give the contemporary actresses a neck-to-neck competition.
Have you ever visited Shilpa's Instagram account? There you will find awesome cookery videos and her Sunday-binge updates but one thing is for sure, you can't stare off the pictures she is seen wearing a saree in.
Shilpa got all creative with her saree looks but if you follow her religiously her Shilpa Shetty hair styles too are downright creative. This time Shilpa has seen sporting a Rapunzel braid which was definitely a business class update.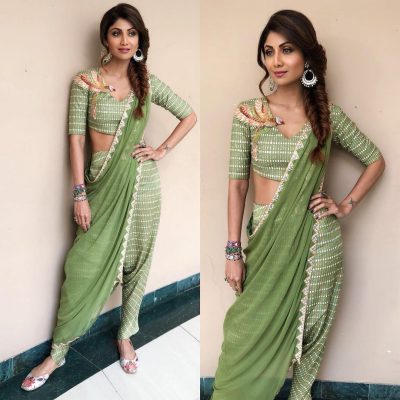 A Rapunzel braid is a quick hairstyle that anybody can do. It also goes down well with all sorts of looks such as western and Indian, gowns and sarees. A Rapunzel braid belongs to the same list as French braid, Fishtail braid and the mermaid braid. When you are running short of ideas, Rapunzel braids come to your instant rescue. This is a five-strand braid so takes some time but once done well, you are sorted for the classiest look ever.
Remember the Super Dancer Chapter 2 look of Shilpa Shetty?
Where she was styled by Sanjana Batra who chose a Mint Green Saree from Roshni Chopra and juttis from Fizzy Goblet to go with it? The look was sealed with ear-rings from Varun Raheja. Which took away all the attention from her entire ensemble was the side braid which was not the routine 3-part braid but an upgraded version of Rapunzel braid which looked rather painstalking than easy-breezy. Hairstylist Sheetal Khan seemed have a keen eye for details so she took ample time for creating it. We also laud Sjay Shelar for giving her an edgy make-up with golden mascara and Pink Lipstick to rock the look.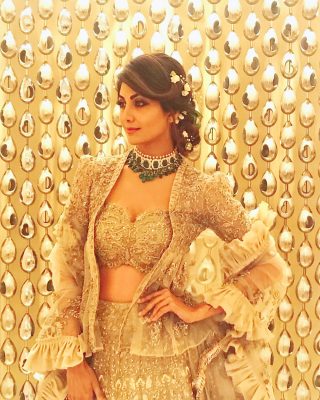 Here is a small tip:
In case if you have layered hair-cut, make sure your hair hasn't been washed for a day so that it becomes more ductile and easier to make the plates.
Rapunzel braid – Shilpa has given us hairstyle goals always and this one is a new addition in that repertoire. This time she gave her soft curls a ditch and we are completely besotted.