Secret Behind The Bracelet Salman Khan Wears – We all know that the one thing Salman Khan can't live without is his turquoise bracelet. He certainly makes sure to wear his bracelet all the time. Whenever Salman Khan's name appears, along with his past-story, his bracelet is also a topic of discussion. Salman Khan is very much attached to his bracelet and it's obvious that he will never give up wearing it. As we all know, that the turquoise bracelet was actually given to him by his father Salim Khan, and since then he decided to wear it wherever he goes.
It is given by his father, so obviously it's very special to him. But, that is not the only reason why he wears the bracelet. Yes, there's another secret behind Salman Khan's bracelet (his style statement).
The bracelet became so damn popular that it is available in many jewellery stores and even online too. In fact, to show him love and loyalty, many of his fans wear the same-looking bracelet too.
The one big reason is that his bracelet acted as a lucky charm to him. That's the only reason he was seen wearing it in his movies like "Tere Naam", "Partner", including others. Even Salman Khan believes that his movies became a hit because he was wearing his lucky bracelet in the Bollywood films. Also, there are some movies in which he decided not to wear the bracelet because it didn't go down well with the character he was playing on-screen.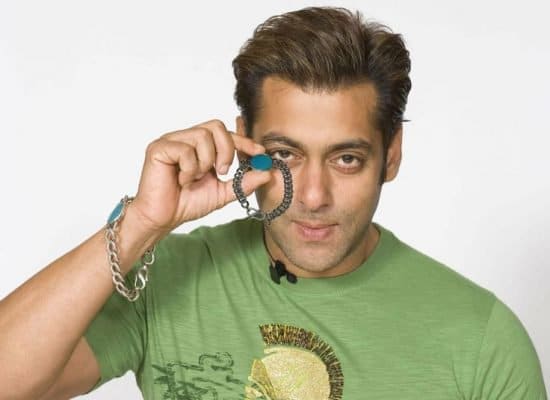 But anyways, luck is certainly the secret behind his turquoise bracelet.
Also, it might be a style statement now, but in reality, it is also worn to prevent all the bad luck. It is been said that the bracelet should be worn mainly in silver or platinum only. And also, it is a blue color stone which is considered to be lucky and was found in turkey in the 16th century. The stone is a sign of protection from all evil things, and it is also heals problems. It also promises to bring happiness and extreme good luck in LIFE. Other than that, the stone is also said to have healing properties e.g. it increases growth in success, and it alleviates all problems.
Maybe Salman Khan's turquoise bracelet is the reason behind his successful career in the Bollywood industry.
Secret Behind The Bracelet Salman Khan Wears – What do you think? Leave a comment below.