Red Carpet Looks – No one can beat our celebs for glam and Fimfare Red Carpet looks stand proof to it.
They are into experimental fashion and the oh-so-glam outfits rob us off our sleep every year. The elemental rule of fashion is wearing something that brings out your best and the celebrity fashion designers leave no stone unturned to come up with the trendsetting outfits in succession.
Since the glamour world thrives on fashion and our celebs roll in dough, they spend top dollar to own those outfits and pull them off in such enormous Red Carpet events effortlessly.
Here are some pictures of Red Carpet Looks, those celebrities who upped the ante this year:
Red carpet looks –
1. Alia Bhat in Mansoori gown:
Alia Bhatt is counted in the A listed fashion forward celebrities who make sure to turn heads with each of her appearances. She bowls us over with every look of hers be it a saree, a dress or a gown. She wore a Mona Al Mansoori Lavender coloured gown with elaborate frills in the bottom. Pantone is the colour of the season and seems like Alia was born to wear it.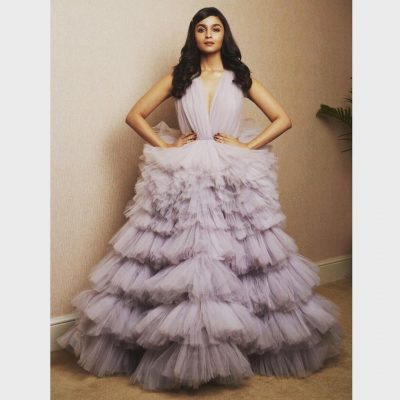 2. Sonam Kapoor in Vera Wang:
Sonam Kapoor runs fashion in her veins and hence touted as the epitome of Fashion in Bollywood. Some of her choicest of outfits created ripples in the Hollywood circle too when she appeared for Cannes. Sonam looked categorically chic with the Vera Wang embroidered black blazer set. The look is so edgy and we give two thumbs up to it!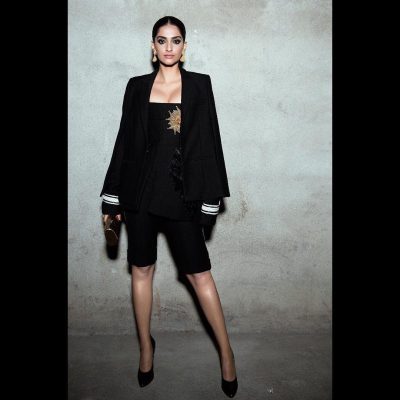 3. Ranvir Singh in Karrtik Dhingra:
Ranvir is the lady Gaga of Bollywood whose experimental fashion sense is sometimes side-eyed and sometimes admired. Contrary to the choosy fashion picks of his girlfriend Ranvir cares hoot about gossip mouths and appears in kickass outfits always. Here, he is seemed to pay a tribute to Bollywood as his blazer is printed with posters of blockbuster hits. This is a Karrtik Dhingra design.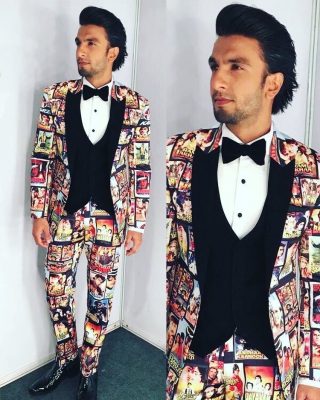 4. Parineeti Chopra:
Parineeti has shed her girl-next-door image and made an appearance in this Kutja and Meri fairy off-shoulder gown. This embellished gown magnets our attention for all the right reasons and Parineeti is looking out-and-out stylish.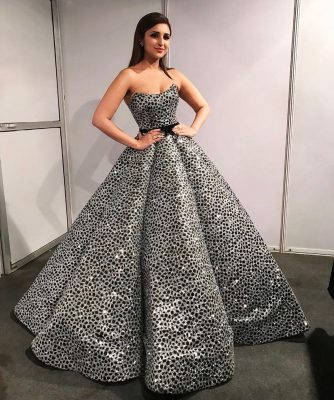 5. Kajol in Manish Malhotra Label:
Maroon does rightful justice to her dusky complexion as she appeared in a Manish Malhotra flowy bardot gown. Kajol is an ardent fan and friend of Manish so perhaps she is looking as effortlessly gorgeous.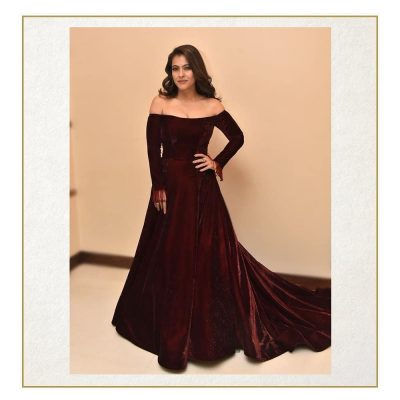 6. Kalki Coechlin in Sabyasachi:
Sabyasachi is a buzzword now after the Virat Anushka wedding and Kalki too has opted for it. She chose a golden embellished saree and paired it with chunky danglers to seal the deal.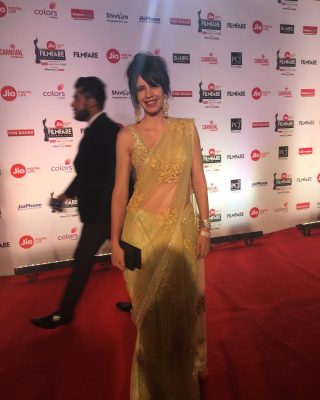 7. Manushi Chillar in Sonaakshi Raj:
Manushi Chillar appeared in a Sonaakshi Raj Red outfit with flowy cape and dropped jaws. She is a fresh face with a killer fashion sense. All of her looks are winning hands down and this one too did.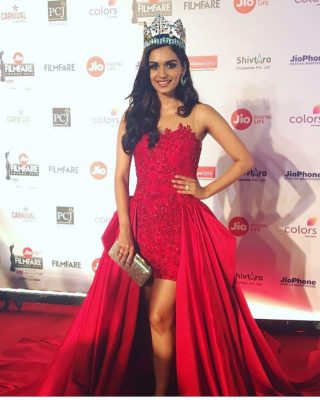 8. Diana Penty in Gaurav Gupta:
Diana Penty looks dream-like in her one shoulder Gaurav Gupta gown in a muted shade. Plus, the make-up is tamed and chic. We overall rate her as one of the best dressed celebs in the Filmfare this year.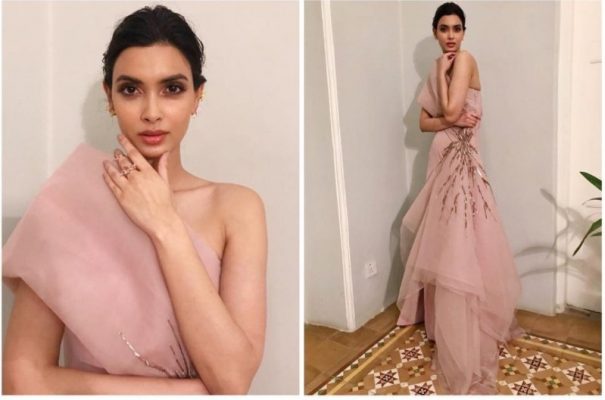 9. Preity Zinta in Garimon Roferos Couture:
Our dimpled diva whose pregnancy news is viral in the internet now after she confirming it, chose a Dubai based designer brand Garimon Roferos for her red carpet appearance in Filmfare. This pink off shoulder gown wins brownie points.
10. Dia Mirza in Shantanu and Nikhil:
Dia Mirza looks uber chic in the Shantanu and Nikhil one shoulder gown. Its plunging neckline is the main draw and we laud this look.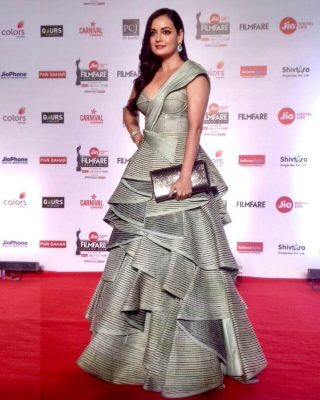 11. Neha Dhupia in Sandy Nour:
Of late, we realised Neha Dhupia has a sophisticated fashion sense although she is not one of the most talked about celebs of Bollywood now. However, this Sandy Nour gown is a perfect shoe-in for walking in the red carpet and not to mention, compliments Neha's sexy curves all right.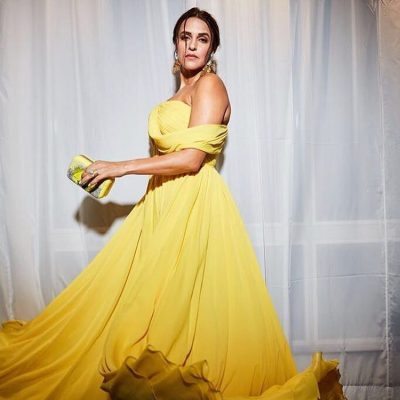 12 – Athiya Shetty in Tarek Sinno:
Like seriously, the new-gen celebs have quite a promise and Athiya's choice of Tarek Sinno gown proves it. She completely own the red carpet with this embellished and frilled on the shoulders mermaid gown.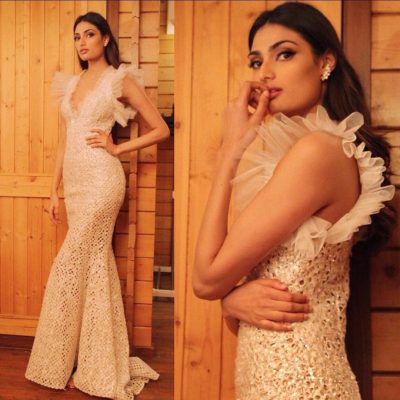 We are rooting for these looks of our favourite celebs because they know what suits them best. We handpicked these looks from Filmfare 2018 to show you how fashion has taken a big leap. No matter if we can't afford these outfits and feel sad, looking at their pictures do half the emotional healing.