Priyanka Chopra has been creating a lot of buzz in Hollywood and rightly so.
Starting from her huge role in the Quantico series to her movie debut with The Rock in Baywatch, she has been bagging some prominent roles with great talent. What she has achieved in Hollywood is impossible for many of the Indian actors but she has the grace and power to do that with so much of flawlessness.
Well, we have to give credit where it's due and Priyanka Chopra has earned the position she has in Hollywood. And through that, she has made all of us proud of her.
Her success and work in Hollywood has increased a lot and that has led her to buy her own house in USA.
After her achievements in the west, she was not being expected to ever turn up back in India or consider herself a Bollywood actress again. But she has proved that no matter how far she has gone in the west, her heart and soul still belongs to India.
That happened on this Republic Day and she proved all the critics wrong about her with just one tweet. Priyanka Chopra tweeted – "Happy Republic Day India! No matter where I am, you will always be my identity. #ProudIndian #ArmyBeti". Along with that, she also shared a picture with her father and mother that was adorable to another level.
This is what Priyanka Chopra tweeted –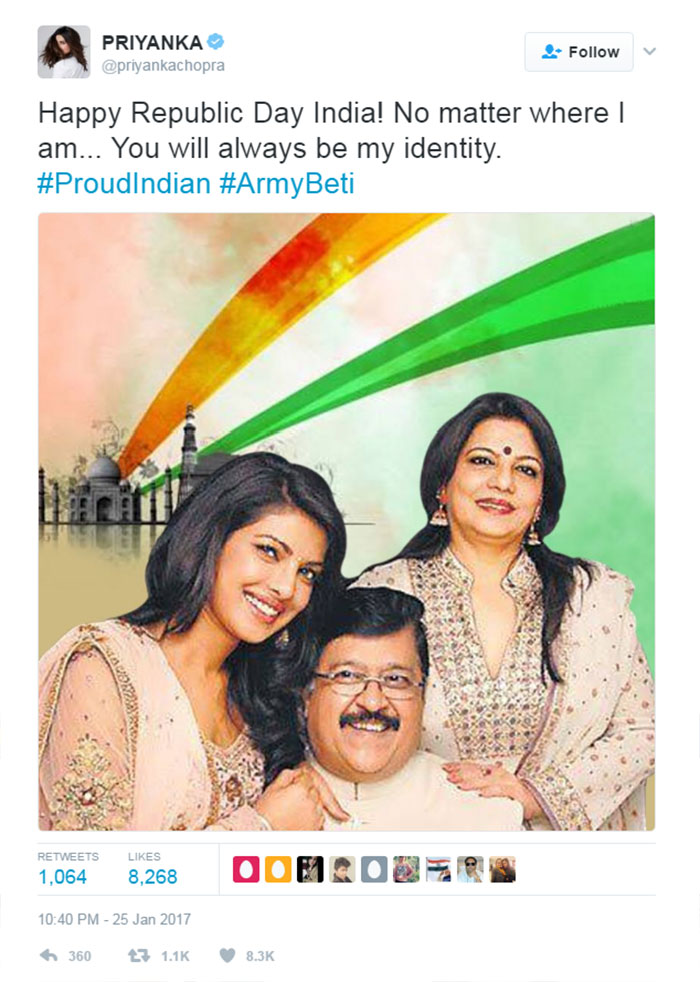 Priyanka Chopra, whose father was an Indian army doctor, has always been proud of her country and the works her father has done.
We are sure that she feels like a proud Indian as much as all of us and has proved the point that no matter where an Indian goes, he or she always remains an Indian.