Love Affairs Of Sridevi – So, what made her do that?
Let me tell you, that this story is not made-up or just any gossip rumour like others. It's a true story as Boney Kapoor's 1st wife once openly said in an interview that Sridevi tied a Rakhi on Boney Kapoor's wrist.
Wondering why? She added saying "it was to prove Mithun Chakraborty that her relationship with Boney was just a platonic relationship."
No doubt, Mithun Chakraborty was a jealous man.
Mithun was disturbed by the on-going rumours of Sridevi and Boney's affair, and so she took this step to prove Mithun that the only man she's in love with is MITHUN. It seems like a typical love-story, isn't it?
There was rumours that Sridevi and Mithun were so in-love that they secretly married to each other. As reported by the media, they kept the marriage under the wraps. On the other hand, when Mithun Chakraborty's wife Yogita was asked about Mithun's involvement with Sridevi, she made it clear saying "I'm very happy to be Mrs. Chakraborty and I will never walk out of my husband so easily." She even made it clear saying "I will accept it even if he takes on a second wife."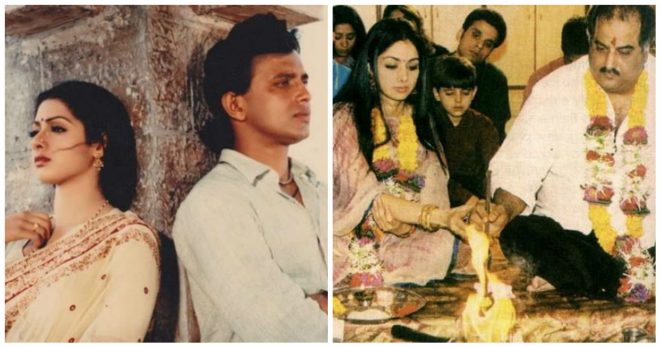 It was hard for Mithun to divorce his wife, and so he never ended his first marriage. Sridevi soon realized that Mithun is never going to hurt his wife, and so she left him and that's how the romance ended between them.
Mithun and Sridevi's story might've ended, but later Sridevi and Boney Kapoor's relationship started making headlines. It was shocking to know that Sridevi was involved in a relationship with Boney. The most shocking news in the industry happened when Sridevi forgot everything about the "Rakhi" scenario, and married Boney Kapoor in 1996. Another shocking news was that Sridevi was 6 months pregnant when she tied the knot with Boney Kapoor.
Sridevi tried a lot to deny the intimacy she had with married man Boney Kapoor, but her pregnancy revealed everything.
Love Affairs Of Sridevi – That's how things turned out to be in Sridevi, Mithun, and Boney Kapoor's life.