KJO Begged Two Actors – Yes, you've read it right.
There was at time when Bollywood's popular director "Karan Johar" had to beg two megastars to convince them to act in his now HIT movie. There was a time when no actor or actress was saying "yes" to act in Karan Johar's movie. It was certainly a hard time and Karan Johar went through a lot during that time.
If you're thinking that Karan Johar never faced any problems while casting actors in his movie, then you're certainly very-very wrong.
It all happened during "Kuch Kuch Hota Hai." Yes, 1998 blockbuster movie in which Kajol and SRK were in the lead role, whereas Rani was featured as a supporting actress, and Salman Khan had a guest appearance.
The movie surely became a hit, but Karan Johar literally had to beg Rani Mukherjee and Salman Khan.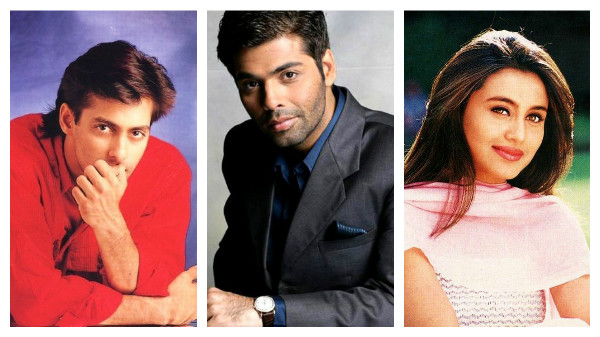 In an interview, Karan Johar revealed that he had to beg them both to be a part of his debut directorial movie "Kuch Kuch Hota Hai."
Here's what he said "I had a lot of trouble while casting Rani Mukherjee's part in Kuch Kuch Hota Hai. I approached at-least 8 heroines and no one agreed. I had given a romantic narration but no one really responded to it. I BECAME LIKE A BEGGAR. It was Aditya Chopra and Shah Rukh Khan who suggested Karan Johar to cast Rani Mukherjee in the movie.
Not only that, "Even for Salman Khan's part, I had to roam here and there. FINALLY it all happened. I had to literally beg Salman Khan and Rani Mukherjee to be on board."
It was a tough time, and once jokingly Karan Johar also said that he thought of wearing a short skirt, and doing Rani's role in the movie if no one does it.
Yep, that's exactly what he said.
KJO Begged Two Actors  – Well, after convincing both the stars, the movie was made and it was a HIT. The movie was great, isn't it?