Karan Deol Debut Film – We all know that Sunny Deol was trying hard to launch his son in Bollywood.
According to the news, his elder son "Karan Deol" has already signed his second movie, but it is not a secret that Sunny Deol actually wanted his son to debut alongside Saif Ali Khan's darling daughter "Sara Ali Khan."
Sunny Deol is working really hard to give his son a perfect launch, and that's the only reason he was seen approaching Amrita Singh to cast her daughter alongside Karan in a debut movie. Maybe he thought that it will be good to cast two fresh faces in movie, rather than involving any other known actress or actor. However, the thing didn't work out yet. But, it will be interesting to see whether Karan Deol will pair opposite Jhanvi or Sara Ali Khan in a movie in the coming years or not. The B-town fans are already waiting to see Sara and Jhanvi on screen, so this might be a reason that he wanted or wants his son to star opposite them.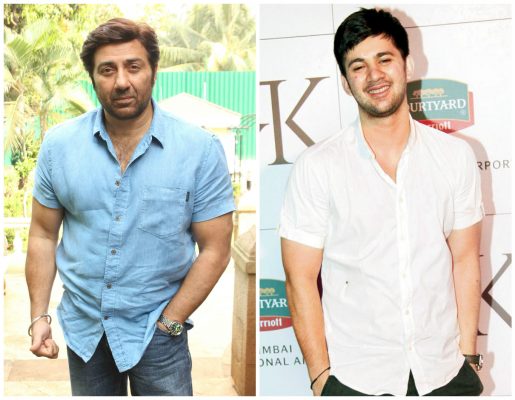 You know; that's how it works.
But no doubt, Sunny Deol seems to have found that right platform to launch his elder son now. Sunny Deol is currently enjoying the shooting for Karan Deol's debut film in Manali. On his Twitter account, he is regularly posting pictures, but Karan's look is not yet revealed. Karan was always interested to work in movies, so it'll be interesting to see him now in a movie titled "Pal Pal Dil Ke Pass" i.e. a romantic drama. This is all about his debut movie, but like I mentioned, Sunny Deol's son Karan has already signed another movie.
Yes, you've read it right.
It is said that Karan Deol will next feature in one of Dinesh Vijan's upcoming productions and it will be directed by Kunal Deshmukh.
Well, Amrita rejected Sunny Deol's offer by saying that Sara Ali Khan has already signed a contract with Dharma Films, and is getting ready for her debut film. So, let's see how it works out to be in the end.
I'm pretty sure that Karan Deol is going to be a big deal in Bollywood. And as we know, Shahid Kapoor's brother will be making his debut too, so it'll be interesting to see how they both impress the audience.
Karan Deol Debut Film – Are you excited to see Sunny Deol's son in a movie?