Jhanvi Kapoor In Bollywood  – We all know that Sonam Kapoor is a "Fashion Diva" of B-town industry. Even though her movies don't work, she always shines in a limelight for her fashionable appearances. Now, talking about the "most-talked" star kid "Jhanvi Kapoor", these days she seems to end up walking on that path only.
Recently, more than her B-town debut, Jhanvi Kapoor is a star kid who is now known to be the stylish upcoming star. Her style is great (No doubt). But, all the hype about her fashion sense seems to make us believe that even though she doesn't work out in B-Town, fashion is gonna save her. You know, right from wearing Rs 47,000 top – Manish Malhotra's Favorite, Jhanvi Kapoor is all about Fashion these days. I think, doing something different besides just acting in movies is the trend which is becoming quite popular in B-town.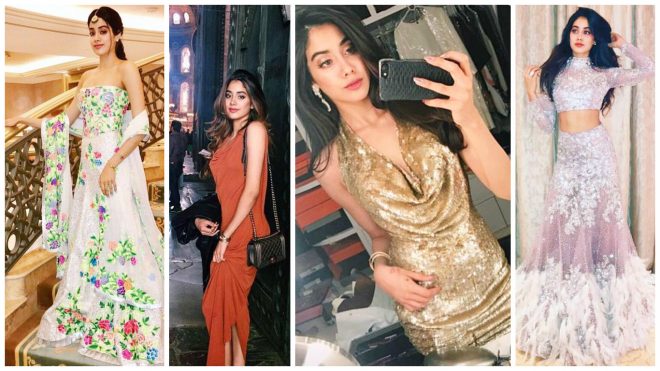 I hope that Jhanvi Kapoor really prove us wrong.
Sonam Kapoor has done great movies but let me remind you that she's more about her Fashion.
Well, we don't want the same scenario with Jhanvi Kapoor.
We all are certainly very excited to see her in movies. We are waiting to watch her acting talent and see her make it big in Bollywood, just like her cool mom Sridevi did. Sridevi is a stunning actress and we all want her daughters to make it big too. But, we hope that Jhanvi doesn't make headlines for all the wrong reasons.
And, we certainly want to see her slay at award nights, and promotional events in her stylish side. But, these days, it seems that Jhanvi Kapoor is getting the so-called label as "Fashion Diva". One more thing, there's certainly nothing wrong that she's fashionable, but the talent of acting is what her fans want to see now. Jhanvi Kapoor turned 20, and her fans are waiting to see her in movies. I'm not gonna call her "The talented actress" because she's obviously yet to show her acting skills.
Only after her acting, we will be able to decide whether she is a great actress or just a Fashionable diva (As they say) All her fans are waiting to see her in movies and they all hope that she proves that she can be a great actress too.
I know that upcoming actresses don't really need to prove anything to an individual soul. But, again, when it's about acting, Bollywood Fans expect you to do something great.
So, are you waiting to see Jhanvi Kapoor in Bollywood? Let us know about your views in the comment section below.