Is Priyanka Chopra the hottest item queen of Bollywood? We find out.
The 'Desi girl' of Bollywood may be against vulgar lyrics, but seems to be the ultimate item queen, what with she doing sexy numbers by the dozen these days! Priyanka Chopra is all set to sizzle in an item song in Sanjay Leela Bhansali's upcoming epic romance 'Ram Leela'. Her first look was unveiled yesterday and we must day that the former beauty queen looks like million bucks in a cream lehenga with minimal accessories.
This year itself has seen PeeCee in two item songs already. Her bold and brazen outlook in 'Babli Badmaash' from 'Shootout At Wadala' became quite a hit, despite the movie having a number of item songs. And she continued the run with another sensuous performance in the action-drama 'Zanjeer'. Her 'Pinky' act was the only bearable portion in an otherwise mediocre movie.

She seems to be the crowd-puller directors are lusting after as she has the face (thanks to a string of surgeries) and the booty (thanks to her workout regime) to make the nation go crazy on her jhatkas and matkas. Even her Goan-inspired number 'Darling' from 'Saath Khoon Maaf' became a huge hit and Priyanka became the undisputed queen of item songs. Despite the Munnis and Sheilas, it's Piggy Chops who is on the wish list of every producer.
May be it's her international appeal, what with her going 'Exotic' with the bug daddy of club hits, Pitbull. Some trade analysts are saying that her sudden popularity is due to the SRK controversy that has upped her market value by three-fold! There's something mysterious and appealing about a woman who has been called a 'home-breaker' and is looked down upon by her colleagues and star wives. Not the one to let troubles come in the way of her success, this self-confessed daddy's little girl has been making sizzling appearances onscreen and giving her fans a total paisa vasool experience.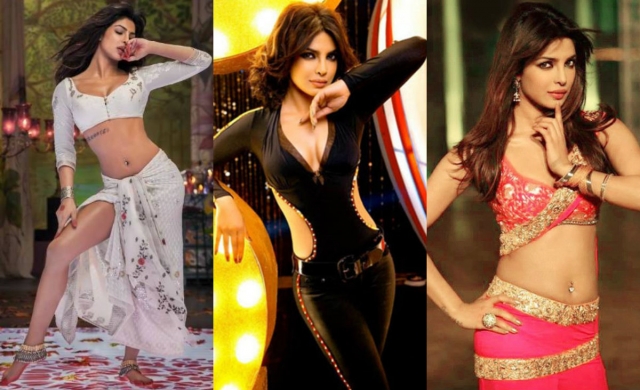 The bigger question, however, is…will mainstream heroines replace the goof old item girls who have been doing the cabaret and poll dance bits for ages now? With every actress worth her plastic surgery having done a special song in blockbuster hits, looks like this trend is here to stay! Do you like watching Piggy Chops in item songs? Is she the item queen on tinseltown? Do let us know in the comments section below.