We talk about the launch of new horror-movie, Alone, starring Bipasha Basu with TV's heartthrob, Karan Singh Grover. It's Karan's debut and for Bipasha, another horror movie
Is Bipasha Basu Alone or with Karan Singh Grover?
The answer to this question is: She is neither Alone nor is she dating Karan Singh Grover! Just that the name of her next movie is tentatively titled, Alone and Karan will be her co-star in the movie. It is again a horror flick which Bipasha seems to be having mastery in. We wonder, where has her charm and sensuality gone that everyone just wants to see her in horror movies? Isn't she sexy anymore? Aren't her curves seducing enough?
Well, may be her rigorous work-out in the company of her ex-boyfriend, John Abraham, has squeezed out all the cuteness and feminine side of hers and what's left behind is something scary! (Strictly no offence to her die-hard fans, we are just giving an opinion "winkwink").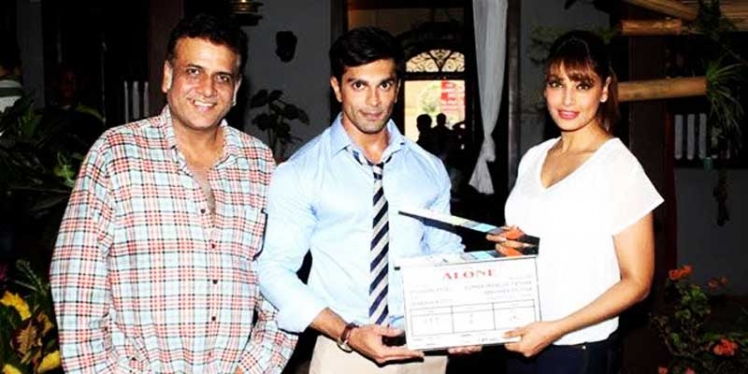 On a second thought, may be her career itself is going through a scary phase. After all now-a-days she is not seen in big banner productions or with A-league stars. Things have come to such a stage that she is being used to launch TV actors like Karan Singh Grover's career in films. Wonder if she will be acting as a ghost in the movie and if she does, a good ghost or a bad ghost?
Let us leave it for the future when movie gets complete. For now, talking about Karan, he has been a TV heartthrob for many years now and definitely a good looking guy. Apparently, like John Abraham, he has also made an amazing physique and it is one of his plus points. Maybe Bipasha agreed to do this movie for this very reason? Ahem Ahem!!
Anyways, Karan has a huge fan following and Bipasha has her own set of loyal fans and this must be the reason for director Bhushan Patel of Ragini MMS 2 and 1920 Evil Returns fame to sign these two actors.
Even if the movie is trash, producers can at least bank upon the fans to save them from disaster!
Meanwhile, Bipasha had tweeted that this is a love story with chills! Does that also mean that the romance between them will be total thanda? We really hope not! A horror flick having these two good looking actors got to have hot and steamy romance or else it won't be a paisa-vasool entertainment, right?
The shooting for the movie has already started in Mumbai in a bungalow. Hope the set is filled only with living humans and no spirits are participating in the shoot. Who knows, some excited spirits might want to get cozy with our gorgeous stars!
Let us send these two beautiful people our best wishes and prayers to make a full-on entertaining film, with some deadly romance and lively horror!