Most of Akshay Kumar's recent hit songs are remixes of old songs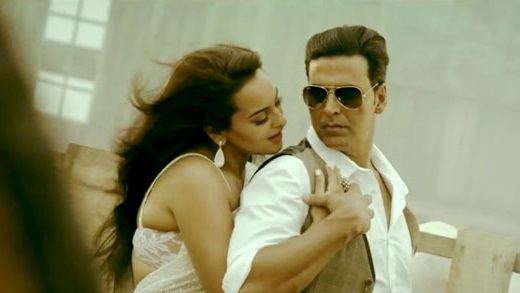 Askhay Kumar is all over promoting his new movie Boss and the songs too seem to be climbing up the chartbusters. After releasing a special song during Ganpati, dedicating the title song to singing praises of Ganapti Bappa and then a Hindi version of 'Aapri Pode", Akshay recently released the remix version of the old song 'Har Kisiko Nahi Milta' originally from Jaanbaaz.
Now the original song had Sridevi crooning to the mike and while a young and handsome Feroz Khan drooled over her. In this new remixed version while the setting looks proper with horses and cowboy hats getting the feel of the song, we have Sonakshi filling in for Sridevi. Umm…not the right choice really! I mean she looks good wearing almost similar saris to what Sridevi wore but obviously the latter has more charm and well looks much better. Sonakshi does play her part well but the sizzling chemistry which is required to bring up this song's appeal is missing.
Maybe Akshay should have used his other lucky mascot, Kareena Kapoor or even Katrina Kaif for that matter. Both share a crackling chemistry with Akshay and probably the song would have turned out well. Overall the song almost nails it with Arijit Singh singing his part perfectly. He almost makes you forget the original. Almost.
And while we are talking about remixes, has anyone noticed that Akshay Kumar has been featured in one too many of these 'old-mixed-with new tunes'. In his movie Thank You he danced on the popular song 'Pyaar Do Pyaar Lo' and back in Housefull he was seen grooving to 'Aapka kya hoa Janabe aali'. Akshay surely is rising up to the new remix King!
Check out the complete playlist of Akshay's awesome remixes!
Har Kisiko Nahi Milta – Boss
Pyaar Do Pyaar Lo: Thank You
Aapka Kya Hoga Janaabe Aali:
Remix of Aapri Pode: