Is 2013 the year of South Indians? We find out…
The idli-eating, lungi-sporting and aiyyyo-saying lot (as conceived by Bollywood) seems to be the hot favorite of B-Town this year. From 'Lungi Dance' gaining chartbuster status to Deepika Padukone's annoying accent becoming the norm, South Indian characters are slowly gaining prominence in Bollywood.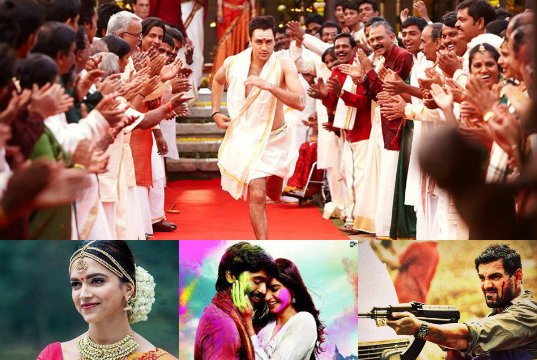 The latest actor to sport 'vibhuti' (holy ash on his forehead) and wear a veshti (the white lower that men wear…contrary to popular belief, it's not a lungi) is Imran Khan, who plays a South Indian in his upcoming flick 'Gori Tere Pyaar Mei'. With his first look just having come out, he looks like a total misfit, thanks to his milky white complexion. It's a big risk the actor is taking, as his experiments don't pay off that well. Will he be able to spin magic as a Tamilain/Mallu in this rom-com? Only the mid-week of November can shed any light on that!
Before him, it was Deepika Padukone who won audiences' hearts as a simple Tamilian girl in the Rs 300-cr hit 'Chennai Express'. She looked stunning on the screen in vibrant Kaanjeevaram saris and jhumkas, coupled with bindi and anklets. SRK's struggle to understand what her family says and the confusion that follows made the movie the biggest hit this year. And in a way, it has helped bring Tamilians back in the game too! Because it was the first time a female lead in a mainstream Hindi movie was playing the role of Tamil Nadu-born.
The fascination for the Tamil-speaking crowd was also seen in this year's one of the most intelligent and taut thrillers 'Madras Cafe'. Set against the backdrop of former Indian PM Rajiv Gandhi's assassination, the movie beautifully captures the tension between Tamils from Tamil Nadu and their Sri Lankan counterparts. Despite some factual errors, the John Abraham-starrer was a decent hit. Even Johnny boy speaks a bit of Tamil in the movie to play the role as a RAW agent.
Even in the other Rs 100-cr hit 'Raanjhanaa', Dhanush's character is shown to be a Tamilian settled in Varanasi. The South superstar even speaks his toungue with a police officer in one of the most crucial scenes of the movie. May be this was written into the script to appease his South Indian fans or may be to shadow his poor Hindi accent. Whatever it is, he made the audiences sit up and take notice of Tamil. Let's not forget that Dhanush's viral sensation 'Kolaveri Di' has been topping Hindi charts ever since its debut. Have the North Indians finally accepted these folks?
If this wasn't enough, Alia Bhatt is gearing up to play a Tamilian in '2 States'. Based on writer Chetan Bhagat's book of the same name and party inspired by his own life, the film looks rather interesting!
What is your take on it? Is it just a trend or finally Bollywood is recognizing other cultures as well? Do shout to us in the comments section below!
Related tags: tamilians in bollywood, chennai express srk, chennai expres deepika padukone, south indians in bollywood, 2 states alia bhatta, gori tere pyaar mei imran khan