Karan Johar twins – It was in February this year that Bollywood director, Karan Johar became a parent to twins through surrogacy.
His joy knew no bounds when he brought his babies home in March after they had been hospitalised for around fifty days fighting complications following their pre-mature birth.
He had stated that initially he was quite scared when he first saw how small the babies were after they were born in a suburban Mumbai hospital. "All I wanted to do was hold them and protect them but they needed to be in the NICU. It was painful to see how tiny they were…" Karan Johar did share on Twitter.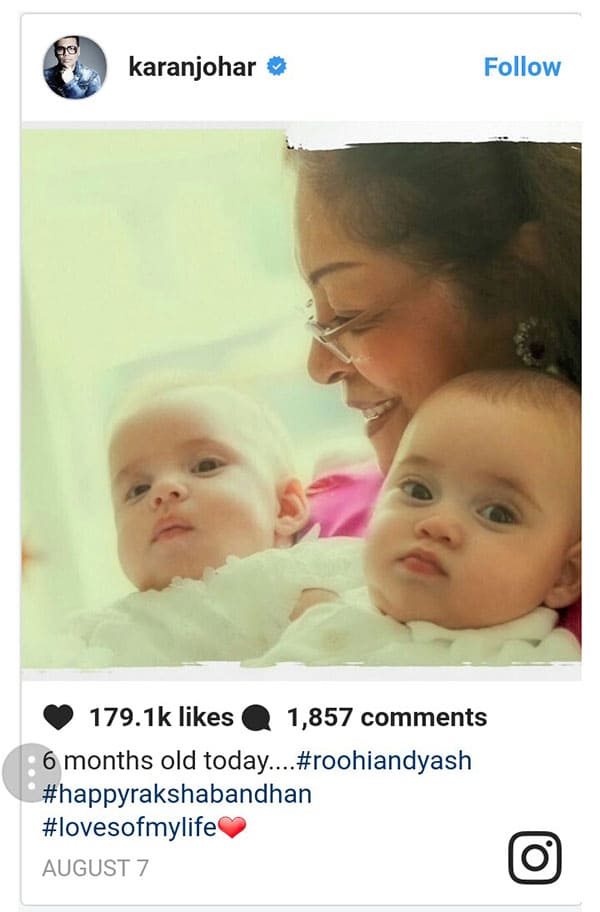 The director has named the twins as per the names of his beloved parents. He named his son Yash after his late father director Yash Johar and if you notice his daughter has been named Roohi, which is but a rearrangement of his mother's name that happens to be Hiroo.
In the recent times, Karan Johar was away to New York in order to host the 18th edition of the International Indian Film Academy Awards and he did take to social media to tell the world how much he missed his lovely babies. It was then that the Director happened to share the first picture of his twins. The picture that he shared is of the cute tiny hands of Yash and Roohi that is held by a hand, which we presume is that of his and it bears the caption "I miss my babies!!!! #roohiandyash". This happens to be the first-ever picture that the director has shared till date of his twins. The tiny little fingers are too cute and makes for an incredibly remarkable picture.
This Rakshabandhan happened to mark the completion of 6 months of his adorable Karan Johar twins and  by sharing an extremely cute picture of the twins on Instagram did provide for the world their first ever aww-dorable looks.
Gauri Khan being a close friend of the director has taken special care to designer the perfect nursery for the Karan Johar twins as per Karan's choices. We did get a view of the exceptionally designed nursery when the director was all praises for Gauri Khan on social media and did share some pictures as well. He wrote "@gaurikhan designs my baby nursery with so much love and care!! Love you gauri! It's the most beautiful space…".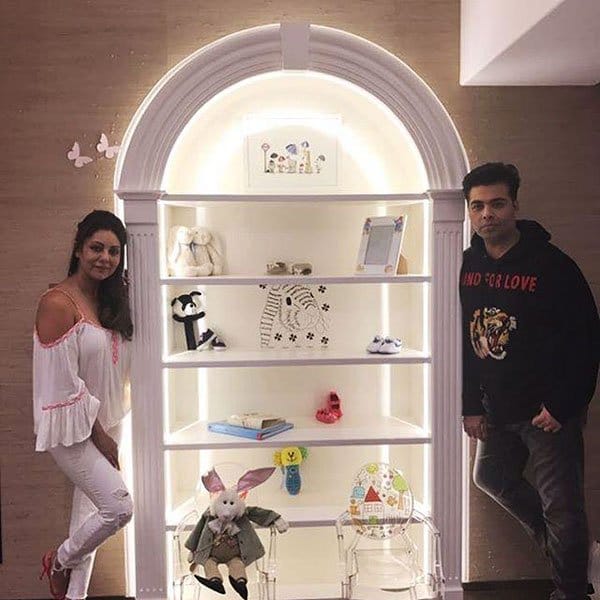 Although he has stated that to play the dual role of a mother and father is 'even more daunting', but to become a parent has been something that Karan Johar had always wanted.
In his autobiography 'An Unsuitable Boy' he expresses his desire to have a child either through adoption or surrogacy. During the release of his book, he said "I don't know what I'm going to do about it but I feel like I would like to be a parent. I don't know how it's going to happen but I do feel the need because I have plenty of love to offer and I'd like to take it forward. This feeling needs a release and requires a platform. And that platform could be by being a parent,"
And prayers do get answered and today Yash and Roohi are considered as blessings in his life.
Here's looking forward to more pictures of the little munchkins.