Ex-Girlfriends Of Abhishek Bachchan – Abhishek Bachchan is now happily married to the world's gorgeous lady Aishwarya Rai Bachchan. But, there's no secret that Junior Bachchan has a past. Yes, and that is related to his love-life. The first thing that came into your mind might be Karishma Kapoor or Rani Mukherjee. But, this is not about them.
This is about his other ex-GF who he dumped because he wanted to be with Aishwarya Rai.
Can you guess which actress I'm talking about? Umm, No? Alright, I'm talking about Abhishek Bachchan's gorgeous ex- GF "Dipannita Sharma".
Yes, Dipannita Sharma who worked in movies like "Ladies Vs Ricky Bahl", "Jodi Breakers", "Pizza" and others. She is well-known in the Bollywood industry. Are you wondering about how they met each other? It was Dipannita's close-friend "Sonali Bendre" who introduced her to Junior Bachchan.
Abhishek Bachchan and Dipannita Sharma enjoyed a 10 months relationship together. But, what happened after 10 months? According to many reports, Abhishek Bachchan was then attracted towards Aishwarya Rai. At first, Dipannita Sharma was not aware about Abhishek's attraction towards Aishwarya Rai.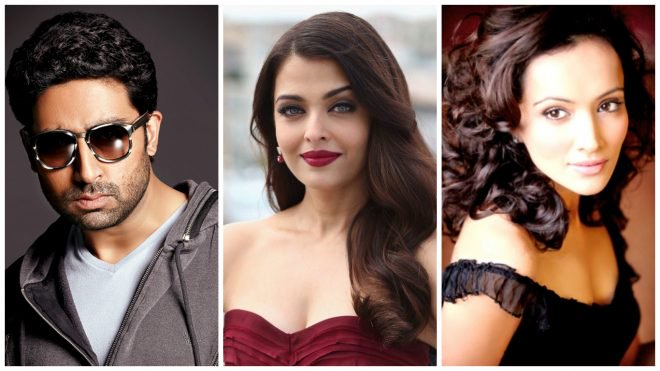 Infact, Dipannita Sharma wanted to plan something big for Abhishek Bachchan. But when it was informed to him, he gave an excuse that he'll not be able to come because Dad (Amitabh Bachchan) is unwell. Someone she couldn't celebrate Abhishek's birthday and accepted his excuse.
But, what came as a surprise is that exactly on Abhishek Bachchan's birthday, he himself threw a lavish birthday party. Guest was invited, and even Aishwarya Rai was present at his lavish birthday party. But, guess what? Dipannita Sharma had no clue about all this, as she was not even informed about the party.
It was all done to impress Aishwarya Rai.
It was surprising to see that Abhishek Bachchan actually dumped Dipannita Sharma in such a way. Thus, Dipannita Sharma moved on and Abhishek Bachchan also moved on with Aishwarya Rai in his life.
 Ex-Girlfriends Of Abhishek Bachchan – Any thoughts? Leave a comment below.