Dharmendra And His Daughters – Dharmendra is a happy man now.
In personal life, we all know that he married twice.
He is now happy with his dream girl Hema Malini and has 2 daughters Esha and Ahana, who are well-settled. Well, Esha and Ahana are both visible to the media, and their personal life is also well-known.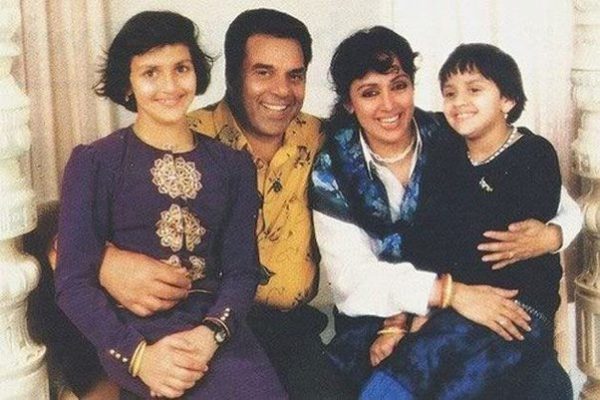 Talking about his 1st marriage, Dharmendra married Prakash Kaur in 1954 when he was only 19 years old. It is been said that during that time he was really an immature person and did not have any great ideas about marriage. Despite not having much idea about marriage, the couple has 4 children.
Yes, you've read it right.
Yes, 4 children – Sunny, Bobby, Vijayta, and Ajeeta who are all happy in their life. I'm quite sure that not many people are aware about this truth. There are many people who think that Dharmendra only has 2 sons from his first marriage. It's all because we have seen Sunny and Bobby acting a lot in movies and they are still continually acting, whereas in terms of Dharmendra's daughter, it can be said that they prefer to stay away from the limelight.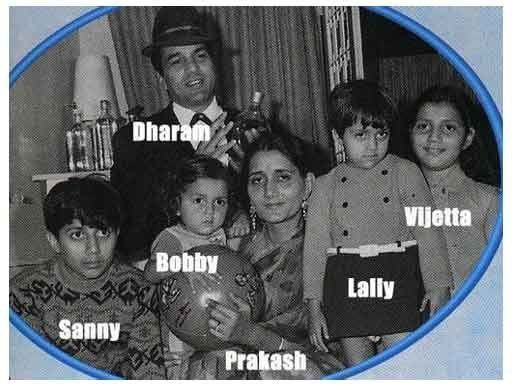 Dharmendra's first marriage is always much questioned (?) as there is no report about whether he divorced his 1st wife to re-marry or not? The thing is, not even his 1st wife came into the limelight since years, so it is hard to know much about his personal relationship with his 1st wife.
You might be thinking about what are his daughters doing in their life now, right? Well, not much information is revealed, but one thing is sure that his two darling daughters are happily married into wealthy families. In an interview, Dharmendra once said that all his daughters and sons are happily married in their life.
Dharmendra's daughters don't like being a part of B-town industry, and that's the only reason there are no pictures of them.
Times passed, and now Sunny Deol's grown up son Karan Deol is all set to make his debut in Bollywood. Earlier, Karan Deol was assisting Sunny on the sets of Yamla Pagla Deewana, in order to learn some acting. And now that he is ready, there are two movies in his pocket.
So, it's time to wait and watch Karan's debut movie very soon.
This was all about Dharmendra and his daughters.