Dating List Of Arpita Khan – Arpita Khan is not involved in acting, but that doesn't mean that she is not interested in Bollywood's handsome actors. Arpita's dating list is long…Well, I know you know that she dated Arjun Kapoor before he made it BIG in the Bollywood industry. Arjun revealed that it was his first and serious relationship. Even Arpita was happy with him and they enjoyed their relationship for about 2 years.
That's Arjun and Arpita's love-story, but how many of you know what happened when they broke up. I mean, who did she date? This might be a little surprising, so get ready to be stunned. She dated the "PINK" movie star. Can you guess it? Yes, I'm talking about the one and only "Angad Bedi."
Angad Bedi and Arpita Khan were in a relationship.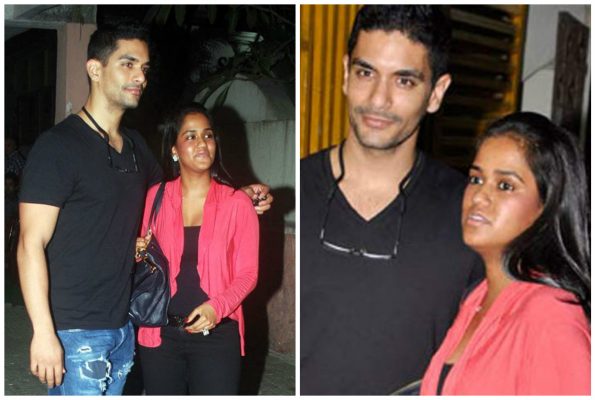 It is quite obvious to be stunned, because not many people know about their secret relationship. Are you wondering, how did they meet etc? Here's the story – It is been said that they met each other through their mutual friends and then eyes met, they fell in love, and right after few weeks they started dating each other. No doubt, they were really happy together as they were seen hanging out publicly as well.
Here's the picture (Hanging out together) One can say that they were madly-in-love with each other during that time.
But after dating for about few weeks, they ended their romantic relationship because they disagreed on things a lot, and there were too many FIGHTS.
There's no bad blood between the two of them, as they've managed to stay FRIENDS. Even Angad Bedi is working with Arpita's sister "Salman Khan", and there's bad blood in-between them.
No one really knew about their short-lived love-story, except their close friends and family members.
Dating List Of Arpita Khan – Now they both are happy in their own personal LIFE. And as we know, Arpita is married to Aayush Sharma and she even became a mom, whereas Angad is rumoured to be dating Nora Fatehi.